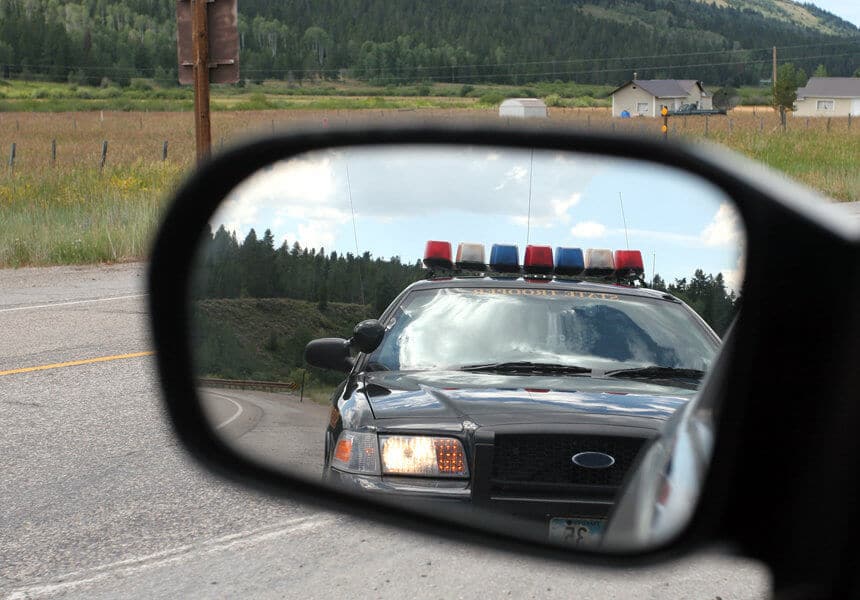 The penalties for driving without insurance vary by state. There are serious repercussions for being pulled over with no insurance and for being in an accident uninsured. Some of the most common penalties include having your driver's license suspended, having your vehicle registration suspended, fines, and increased insurance costs. There are many reasons to make sure you are not pulled over without insurance, especially in Arizona.
Driving without insurance is illegal
First and foremost you should remember auto insurance is not just important to cover the "what ifs" of driving but is part of the responsibility of car ownership by law. The Arizona state website: www.azdot.gov discusses this law in explaining, "Arizona requires that every motor vehicle operated on roadways be covered by one of the statutory forms of financial responsibility, more commonly called liability insurance, through a company that is authorized to do business in Arizona. This requirement also includes golf carts, motorcycles and mopeds. This is covered under Arizona's Compulsory Insurance Liability Law.
Minimum levels of financial responsibility are
$15,000 bodily-injury liability for one person and $30,000 for two or more people.
$10,000 property-damage liability."
Insurance from a company that doesn't do business in Arizona is not valid
If your car, golf cart, motorcycle, or moped is registered in Arizona then it has to be insured in the state of Arizona as well. If you relocate to Arizona you have to register and insure your vehicle in Arizona. This would generally be handled by the MVD or Motor Vehicles Department. This is the equivalent to the DMV in some other states. You are generally considered an Arizona resident is you register to vote in Arizona, have an Arizona driver's license, have a business based in Arizona, work in Arizona, live in Arizona 7 months or more out of the year, or meet additional criteria. If you relocate to Arizona be thorough with your to do list and don't let out of state insurance get you into trouble.
Arizona restricted use permits are not exceptions to the insurance laws
The state of Arizona has a restricted use permit law. This law states that any newly purchased vehicle, new or used, has to be registered prior to being driven. The restricted use permit can be applied for online at: https://servicearizona.com/webapp/permit3/start.do . It is a three day permit that allows you to drive your newly acquired car. One of the first requirements to start your online application for the permit is insurance. You must have proof of insurance for your new vehicle or you will not be able to apply for the restricted use permit.
The cost for being pulled over without insurance in Arizona is steep
The penalties for the first offense are a $500 fine and the suspension of your license and registration. Your license plates are also taken. The second offense within 36 months will cost you at least a $750 fine, suspension of your license and registration for 6 months and your license plates are taken. If you were to have 3 or more violations within 36 months the fine is at least $1000 and the suspension is for 1 year. In addition you may be required to file proof of financial responsibility. The fines listed do not take into account increased insurance rates, court costs, or any other financial consequences that you may incur.
In Arizona a SR-22 certificate can be a consequence of getting caught driving without insurance. An SR-22 certificate is not insurance but is a form of a proof of insurance. This can be required to reinstate your driver's license or registration if you have been found guilty of failing to pay an accident judgement or convicted of a DUI. Certain suspensions will only require you to pay your fines, while others will require a SR-22 certificate.
Arizona is a comparative fault state
This means whoever is at fault for the accident is responsible for paying for the damages that occurred. This also means that fault can be divided between the parties. For instance it is possible for you to be 40% responsible for an accident and the other party to be 60% responsible. The costs associated with the accident would be split accordingly between the responsible parties. If an accident occurs in the state of Arizona you have several options; you can take a claim to your insurance company, submit a claim with the other parties' insurance company, or file a personal injury lawsuit in a court of law. If you are an uninsured driver in the state of Arizona and you are at fault in an accident the other driver can take you to court and sue you for damages. You could be sued for medical bills, damage to the other person's vehicle, lost wages, future medical costs, pain and suffering etc. The potential damages could greatly impact your bank account.
If you want to cancel your insurance do so deliberately
Don't ever just stop paying your insurance premium. You will want to notify your insurance carrier that you are canceling your policy. You also must notify the MVD. If you are changing policies to move to another carrier work with that carrier to make sure your coverage begins at the same time your old coverage ends.
Keep your auto insurance policy up to date
Here are some tips to make sure your coverage never lapses:
You can utilize auto pay so that you never miss a payment. Most insurance companies are happy to set this up for you and some will even give you a discount for using this service.
Similar to auto pay, you can also enroll in auto renewal with many insurance carriers. This means there is no paperwork to fill out when your policy term is up.
You should always make sure your address is current with your insurance carrier. If you move, make sure you contact your carrier with your new information.
You can set a calendar reminder for yourself to make payments.
Some insurance carriers have a grace period that is extended if you miss a payment. Check with your agent or carrier to see if this applies to you. If it doesn't, make sure you get your payments in on time.
Being pulled over without insurance in Arizona is expensive and has many possible consequences. Remember that by law you must have car insurance and have proof of insurance with you and available for a police officer at all times.
If you are uninsured, or aren't sure if you have enough insurance give us a call at Gebhardt Insurance Group. We can help you find the best deal on car insurance so you can stop worrying about being pulled over without it.