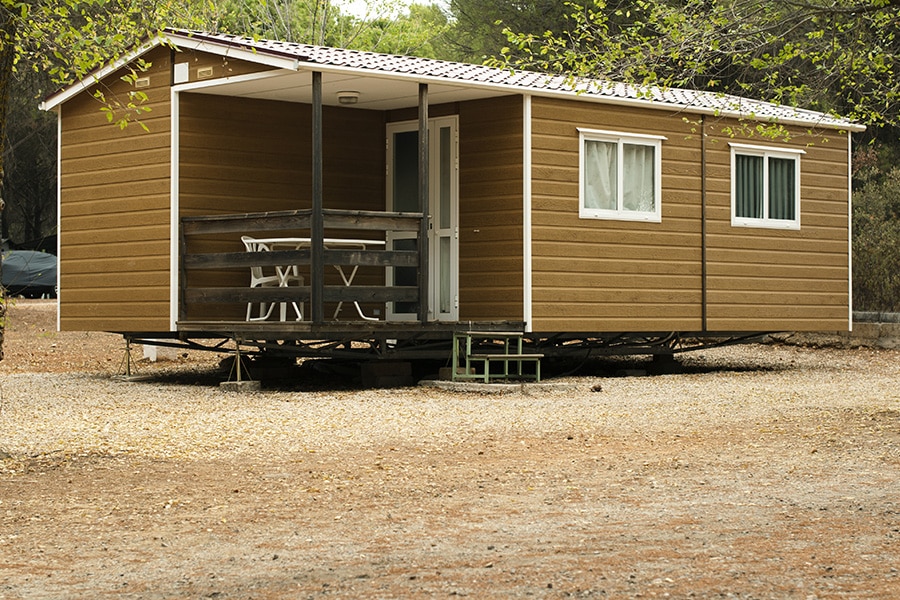 There are many misconceptions about insurance when it comes to mobile or manufactured homes. The word "mobile" leads many to believe it should be handled much like insuring a camper, an RV, or another automobile. But in actuality, it is more similar to insuring any standard constructed home. Therefore, simply carrying auto insurance is not the proper way to ensure that your property and personal belongings are financially secured in cases of disaster or destruction.
Insuring your mobile home is one of the most important steps to take when moving in. The process is similar to purchasing any home insurance but there are a few key differences and specifications to make when looking for a mobile home insurance company.
Continue reading to learn more about what mobile home insurance covers, how much is mobile home insurance and how to find an insurance company with the right policy for you and your home.
What Qualifies as Mobile and Manufactured Homes?
The terms "mobile," "manufactured," and "modular," are often used interchangeably when describing a non-constructed home. It is not necessarily incorrect to do so but these three terms do have mild specific differences which can be important for insurance purposes.
All three of these types of homes are built in a factory and then transported to the property to be installed. But "manufactured homes" are subject to safety standards specified by the Department of Housing and Urban Development (HUD). Any home produced before these HUD codes went into effect on June 15, 1976, falls under the term "mobile home." Homes built according to state or regional codes rather than federal are called "modular homes." These homes are also typically built over a crawl space or basement.
Knowing how old your home is and how it is classified helps to determine the type of home insurance you need.
Types of Mobile Home Insurance Coverage
Mobile home insurance coverage operates much like typical home insurance. You can choose the types of coverage you need and the amount of coverage you wish to carry in each category. Most standard mobile home insurance policies include several types of coverage.
Dwelling coverage covers the structure and systems of the home in case of fire, hail, wind, or vandalism. It is important to note that dwelling coverage does not cover floods, this must be added separately if needed.
Personal property coverage protects and replaces your personal belongings in the home. The amount of personal property coverage you carry is determined by you and the cost of your belongings you need to insure.
Another important piece of home insurance is liability or medical coverage. This coverage is necessary in cases where someone is injured on your property or by your property such as a pet. Some policies also allow you to add endorsements such as for additional structures on the property like sheds and garages or expensive items such as jewelry.
When selecting the type of coverage you need for your mobile or manufactured home, it is important to note whether the policy insures at replacement cost or actual cash value. In many cases, dwelling coverage for mobile homes will automatically insure the home at its original cost rather than replacement value unless it is otherwise specified in the contract.
Is Mobile or Manufactured Home Insurance Required?
According to state and federal law, it is not a requirement that you carry any mobile or manufactured home insurance. But even though the law does not require it, that does not mean that it is not a requirement for you.
Are you using a mortgage loan to secure financing for your mobile or manufactured home? If so, your lender will likely require that you carry home insurance in a specific amount that covers the repair and replacement of the entirety of the structure before you can secure the loan.
Similarly, if you choose to live in a mobile home community, it is likely that you will be required to carry sufficient mobile home insurance. At minimum, many communities require that residents carry a liability policy.
Even if you live on land where you are not required to carry mobile home insurance, it is a wise idea to carry mobile home insurance to protect your assets and ensure that your property is repaired or replaced if property damage occurs. Otherwise, you could be left with a hefty expense to pay out of pocket.
How Much Does Mobile Home Insurance Cost?
It is difficult to give an accurate estimate of how much is mobile home insurance because each case is determined by a variety of factors.
Mobile homes differ from constructed homes because their lack of permanency affects their value. The value of a standard construction home appreciates and grows over time while the value of a mobile or manufactured home depreciates. In most cases, after years of wear and tear, it is actually cheaper to purchase an entirely new structure than to repair or replace damaged parts in a manufactured home.
Because of this, not all insurance companies offer mobile home insurance. Additionally, those that do offer home insurance may require special endorsements to be added to your policy if you want to ensure that your home is covered at replacement cost in the case of a total loss.
Factors that determine the cost of mobile home insurance are where the home is located, claims history, the type of structure involved, and the level of coverage you need.
Connect with a Mobile Home Insurance Agent
Are you in the market for mobile or manufactured home insurance? Perhaps you are looking to move onto some land or hit the road and travel and you're not sure what type of insurance you need exactly. Our team at Gebhardt Insurance Group can help!
Our team specializes in connecting you with one of 40 respected insurance carriers to ensure that you get the exact insurance you need. Speaking with a team member ensures that all of your questions about the availability and how much is mobile home insurance are answered and none of your belongings are left uninsured.
Call us today to begin a conversation about your mobile home insurance needs. We are happy to help!