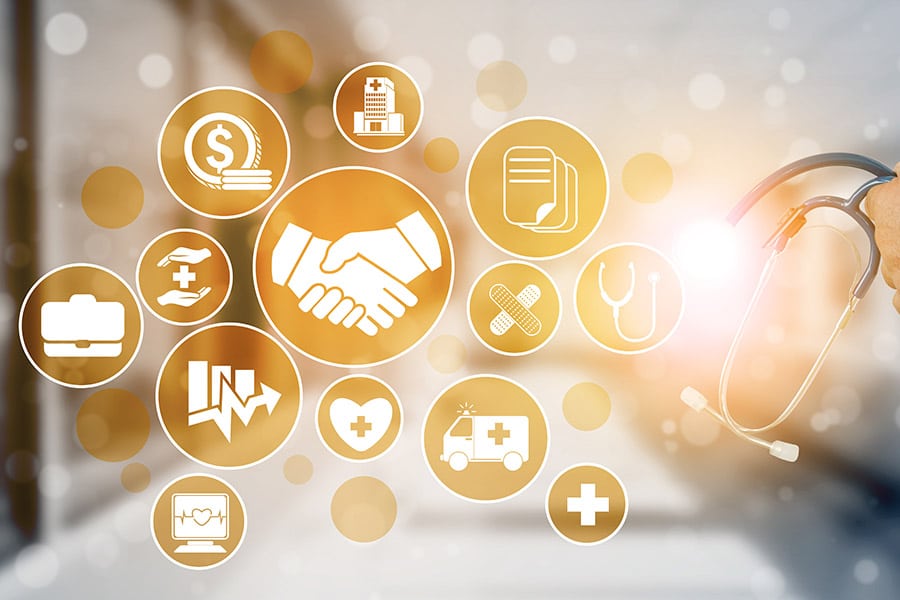 Medicare is a federal program established back in 1965 largely in response to difficulties that older Americans were having in obtaining private medical insurance. At the beginning of 2019, there were more than 38 million people enrolled in Original Medicare and more than 22 million participating in various Medicare Advantage plans.
Medicare has been credited with significantly improving the well-being of mature Americans. When originally implemented, prescription drugs were not as widely used as they are today. In recent years, the program has added measures such as Part D in efforts to keep pace with this trend in healthcare.
Medicare Basics
There are several parts of the Medicare program that address different medical concerns. Part A can be viewed as largely used for hospital-based care. It is used for inpatient hospital expenses, skilled nursing facility care, and hospice care. Expenses can quickly accumulate in these settings. The services provided by doctors while in the hospital are largely covered by Medicare Part B.
Medicare Part B is used for services provided by physicians and other medical providers. It covers various preventive care services including vaccinations, screenings, etc. Home health care services may potentially be covered by Part A or Part B based on the circumstances. Durable medical equipment such as wheelchairs, specialized beds, and others are typically paid for by Part B.
In 2019, Part B had a $185 annual deductible for most participants. This is an amount that the patient must pay before the Part B coverage begins paying. It can be compared to the deductible that applies to comprehensive and collision automobile insurance coverage. After the deductible has been paid, Medicare typically pays 80% of the subsequent costs.
In 2006, Medicare Part D was implemented to assist with the costs of prescription drugs. This optional program is managed by private insurers that follow Medicare guidelines. There are a host of various Part D plans with differing costs and coverages. Those with Original Medicare generally choose one of three types of prescription plans as follows:
PDP: This stands for Medicare Prescription Drug Plans, which is for those with Part A and/or Part B
PFFS: These are Private Fee-for-Service plans for those in Medicare Advantage Plans with a designated provider network
MSA: Medical Savings Account plans are similar to Health Savings Accounts (HSAs) that those not enrolled in Medicare commonly use.
Understanding Original Medicare
Original Medicare is essentially comprised of parts A, B, and D. There is typically a monthly payment or premium for Part B coverage and then a separate Part D premium. Those with Original Medicare are typically required to pay a 20% coinsurance "out-of-pocket."
With the costs of medical treatment today, this 20% can begin to be very costly for many. This is one reason why "Medigap" supplemental coverage plans are popular. Based on financial considerations, some people qualify for assistance from Medicaid to cover coinsurance.
Medicare Advantage
Some individuals opt to participate in a Medicare Advantage plan, often referred to as "Part C." There are many varieties of these plans. They do cover all "medically necessary" treatment based on Original Medicare guidelines. Advantage plans are popular among those seeking coverage for hearing, vision, dental, and others. They typically also include a prescription drug plan.
Medicare Advantage Plans are managed by private insurance companies and typically require that treatment is provided by their "in-network" providers. Those who use an "out-of-network" medical provider should expect to pay additional "out-of-pocket" expenses. Some of the types of Advantage options include Health Maintenance Organization (HMO) and Preferred Provider Organization (PPO) plans.
Important Terms to Know:
Coinsurance: This is a percentage of costs that the patient must pay for services after any deductible is satisfied. (Usually 20%)
Copayment: This is a fixed amount that a patient pays for certain services or supplies. For example, the plan may require a $10 copayment when picking up a prescription or a $20 copayment for a doctor visit.
Premium: A monthly or other periodic payment required for participation in these types of plans.
Preventative services: This is also sometimes called "wellness care" services. These include flu shots, mammograms that screen for breast cancer, Pap tests, etc.
Enrollment Times
Once an individual turns 65 they are typically eligible for Medicare three months later. Those who are eligible that have not enrolled may do so during "special enrollment" periods. These eligibility and enrollment provisions vary based on the circumstances. You may want to discuss your options with an insurance professional.
Rights Regarding Medicare
There are some basic rights that those on Medicare are entitled to. All participants are to be treated "with dignity and respect" and not be subjected to any forms of discrimination. All personal and health-related information is to be kept private. Emergency care services are to be covered and participants always have a right to file a grievance regarding the quality of care.
Arizona State Health Insurance Assistance Program (SHIP)
SHIP is a "counseling service" available to all Arizona's Medicare beneficiaries to help them navigate the program. This assistance may benefit those trying to determine a program that is best suited for their needs. Another option is to consult with an experienced insurance professional that can easily explain your options.
Choosing an Independent Insurance Agency
Why might an independent insurance agency be particularly helpful in understanding Medicare? An independent agent represents its customers instead of any specific insurance company. Independent agents recognize that their customers benefit from the ability to review policies from many carriers. This applies to find competitive rates as well as identifying a solution that is best suited for your individual needs.
Established Insurance Provider in Arizona
The team of professionals at the Gebhardt Insurance Group is a tremendous resource for advice on Medicare. Our expertise extends well beyond Medicare. Clients have been experiencing excellent customer service and support for many years now. This includes insurance products to protect your home, life, automobile, business, and more. Contact our office today at (520) 518-8008.