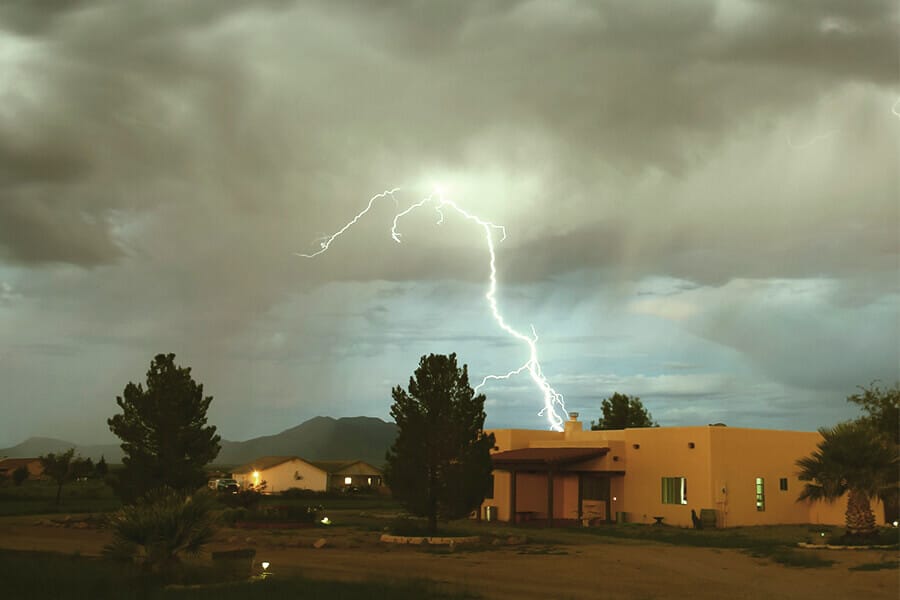 If you are not native to Arizona, you might find yourself in for a wet and wild ride during your first monsoon season. Dry air and hot temperatures over 100 degrees could make you long for the rain and desert thunderstorms to cool it down temporarily. Unfortunately, wet and cooler weather aren't the only things monsoons bring. Summer storms during monsoon season can make their mark with powerful winds and quick and heavy rainfall. The extreme and varying weather conditions can put your home against serious challenges. This is why you need monsoon season home insurance for water damage coverage.
Monsoon season: What is it?
Monsoon season runs from mid-June through the end of September and refers to a specific weather pattern common to the area during this time period. Monsoon season brings a characteristic shift in wind patterns that can pickup moisture from the Gulf of Mexico and California. This moisture and wind combined with a low pressure zone can result in extreme seasonal conditions including thunderstorms, short bursts of torrential rain, hail and high winds.
How monsoon season can impact you
Some monsoon seasons will be dry and mild while others will bring flooding and inches of rain. So, how can monsoon season impact you and your home, especially if you are living in a flood zone? Here are three types of common consequences of a monsoon.
Flooding
Monsoons can bring heavy rainfall with ensuing flooding. Unexpected storms can bring an inch or more of water to otherwise dry areas resulting in flooding. In August 2016 the city of Phoenix Transportation Department issued advisories for several roads and freeways that were closed due to flooding. People had to be rescued from their vehicles, power lines were downed and manhole covers were displaced by moving water. Homes can also fall victim to flooding. Prior to purchasing your home you may need to check to see if it was in a flood zone. It is important to note that monsoon rainfall is not restricted to areas that fall into a flood zone and can strike any home at any time.
A standard homeowner's insurance policy will not typically include flood coverage or water damage to your belongings. If you feel that your home is susceptible to flooding or monsoon water damage, make sure that your insurance provides adequate coverage.
Fallen Trees
High winds that come with monsoon storms also bring a plethora of potential problems. Downed trees and power lines can create safety hazards along the roadways and in your home. A tree that is uprooted in high winds can fall on your home or vehicle and could be your financial responsibility to remove. It's important to understand how your insurance company will treat damage caused by fallen trees. Regardless of the damage, you will be financially responsible for your insurance deductible. A standard insurance company should cover at least some of the damage to your property including surrounding buildings such as a shed. Insurance will probably also pay to remove damaged trees up to $500 or $1000 per tree. Your insurance may not pay to replace the damaged plants or trees depending on your coverage.
Power Outage
Another unfortunate consequence of monsoon storms may be power outages. Homes without power in the Arizona sun can become unlivable quickly due to rising temperatures and no air conditioning. You may be forced to stay with family, friends or relocate to a hotel until your power is restored. Coverage for hotel expenses will vary from policy to policy so make sure to review your existing coverage closely. Power outages can also cause food in your refrigerator to spoil and surprisingly enough a common homeowner policy will reimburse you for spoiled food up to $500 a monsoon season home insurance can be a big help in cases like this.
Monsoon Season Home Insurance
Insurance policies can vary just as much as monsoon seasons from year to year. By having a monsoon season home insurance, you are prepared when worse comes to worst. Once you understand what monsoon season is, you will be armed to protect yourself against it. Similarly, you need to understand your insurance policy and the coverage that it offers. If your insurance does not protect you in the event of flooding, high winds, or downed trees, consider increasing your coverage or adding appropriate addendums to protect your home and property. Flooding can be common even if you don't live in a designated flood plain. If you have questions about your insurance coverage, work with an experienced agent to review and revise your policy.
Monsoons bring cooler temperatures and potentially dangerous and damaging conditions. It can be disconcerting to suffer damage to your home and then be displaced until repairs can be completed. The best circumstances would be having a most comprehensive home insurance coverage that can protect your home. Having the the right home insurance with water damage coverage can be beneficial for homeowners. Call Gebhardt Insurance on how to have water damage coverage.