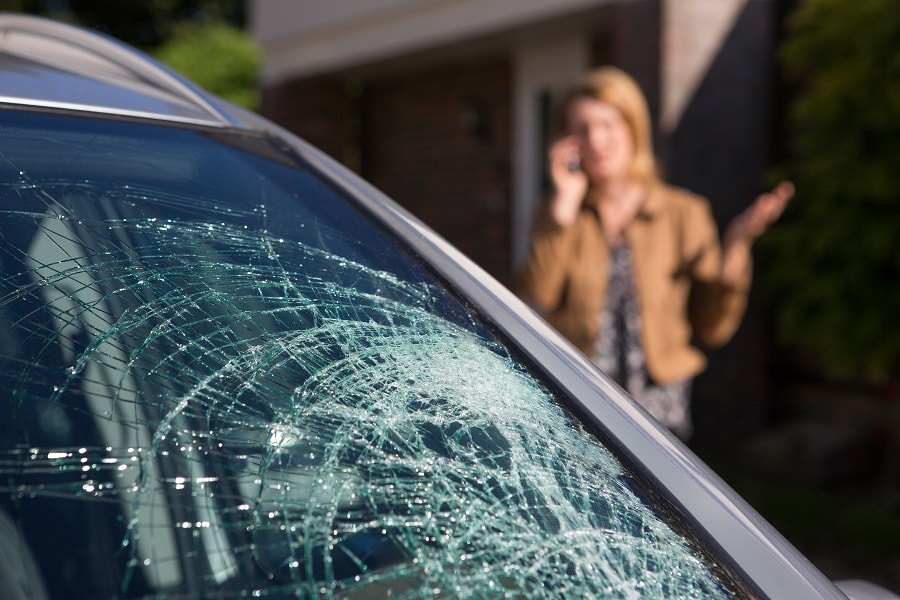 Windshields are considered to be safety devices according to the U.S. Department of Transportation. Driving with a damaged windshield is dangerous. Debris such as rocks can easily damage a windshield. Auto insurance companies in Arizona are required to replace windshields for customers who maintain full coverage insurance policies at no cost. Even a minor chip or crack in the windshield can quickly expand if not repaired.
Windshield Repair
Vehicles that are newer come with windshields that often have special features, especially for luxury cars. This poses a challenge for claims departments to make sure they use compatible replacement windshields. Small chips or cracks in your windshield are generally able to be repaired for $50 to $60. Windshields deemed beyond repair will require that you replace the entire windshield, which is more costly.
Features of Newer Windshields
Vehicles continue to become more complex. Even components that appear simple such as a windshield may have many features such as:
Noise reducing layer: A thin and clear laminate-type layer may be in your windshield to limit the amount of noise within the cabin of the vehicle.
Bands for shade or glare: A band of tint along the top of the windshield that shields occupants from harmful sun rays and glare.
Moisture sensors: A small device that detects rain. It is capable of activating the wipers and may be able to regulate the speed of the wipers as needed.
Wiper heating element: A component that maintains warmth on the part of the windshield where the wiper blades rest to prevent ice from forming.
VIN number: The windshield may contain a space for the vehicle identification number, which can be read from the outside.
Components needed for the rear view mirror such as attachment brackets or electrical elements.
Antennas: A thin metallic antenna is often contained within the windshield.
Auto Insurance Coverage
Arizona is not alone in requiring auto insurance companies to provide comprehensive vehicle coverage repair or replace damaged windshields without a deductible. Other states with this requirement include Florida, Kentucky and South Carolina. In AAA's 2017 Your Driving Costs report, the annual operating and ownership costs for a 2017 model vehicle in the U.S. was $8,469. The average annual premium for full coverage vehicle insurance policies is $1,202.
Arizona Legislation
Arizona Senator Karen Fann has recently supported legislation to eliminate the "zero-deductible" requirement for windshield installation that auto insurance companies face. One version of the bill allows insurance providers to impose a deductible amount that the insured would pay "out-of-pocket". Many of those in support of such changes feel that this could potentially reduce insurance premiums for all policy holders in the state. The Property Casualty Insurance Association (PCIA) asserts that rampant fraud has developed in zero-deductible states.
Insurance Fraud
The PCIA claims that deceptive auto glass repair service providers are overcharging insurers for repairs. They believe these providers are offering cash incentives to consumers who file repair claims. Mark Osborn, an insurance company advocate, says that 88% of all glass replacement claims are from those in zero-deductible states. Rex Altree is the president of the Arizona Auto Glass Association. He explained that eliminating the requirement will cause a surge in the number of motorists who choose not to replace their damaged windshields. He feels that because of the expense many will ignore the flaw in structural integrity, creating a major safety concern.
Associated Costs
T&S Auto Glass, based in Chandler, Arizona, says the average cost of windshield replacement in 2017 was between $200 and $500. Illinois-based Glass America says the average windshield replacement cost is roughly $210 to $230. For some rare or luxury vehicles, this cost can approach $1,500. CarsDirect reports that windshield replacement cost averages may reach $325 depending on the vehicle. Certain high-end manufacturers, such as BMW and Lexus, recommend that windshield replacements only occur at their dealerships. These "dealer only" requirements are likely to be more expensive.
Optional Auto Insurance Coverages
Motorists are required to maintain auto liability coverage to satisfy their state's mandatory minimums. Keep in mind that liability coverage is exclusively for bodily injury & property damage that a driver may cause in an accident. Optional types of car insurance coverage vary from state-to-state and among individual insurers. Some of the common types include:
Collision: Provides coverage for damages to your vehicle in an accident where you are the at-fault party
Comprehensive: This is used to cover damages and replacement costs caused by occurrences such as vandalism, theft, hail, etc.
Glass Coverage: This is considered a supplemental form of coverage exclusively for glass repair and replacement.
Uninsured Motorist: Useful if the at-fault motorist does not have the mandated liability coverage
Personal Injury or Medical: Provides coverage specifically related to medical expenses caused by an accident
Pinal County Auto Insurance Provider
At Gebhardt Insurance Group, we are focused on delivering excellent personal service and meeting your individual insurance needs. Our customers benefit from our ability to offer auto insurance policies from the leading companies in the industry. Contact us today to speak with one of our agents and receive a free quote!