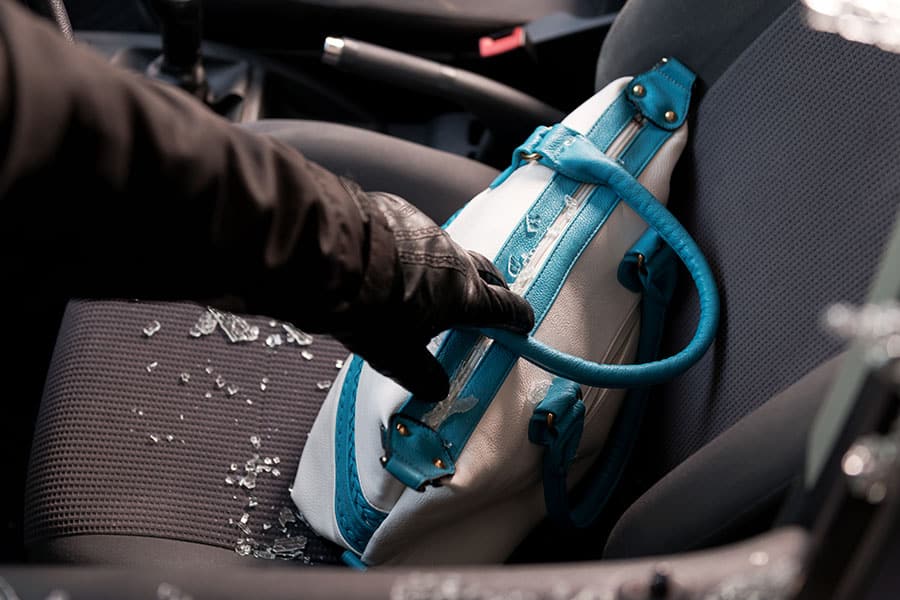 Experiencing the theft of your personal property does so much more than just cause financial stress.
It can leave victims feeling isolated and afraid, no matter what the cash value of your stolen items looks like.
If your vehicle is stolen or personal items are stolen from your car, you deserve immediate support that can help you cover the cost of your expenses and begin to move past this harrowing event.
But without comprehensive coverage, you can find yourself left to pick up the pieces on your own.
So, how can you guarantee that you and your personal belongings are covered, even amid an unexpected theft?
Here's what you need to know…
Does car insurance cover personal belongings?
The short answer is: Yes and no.
Unfortunately, the term "full coverage" can be extremely misleading when it comes to choosing a car insurance policy.
In many cases, insurance companies use this term to describe products and services that give you maximum coverage against car accidents but give you no protection against the loss of personal property.
Of course, that doesn't mean you have to settle for limited coverage. There are several insurance solutions that will cover any items stolen from your vehicle to give you a genuinely full coverage package.
Auto insurance coverage that does NOT cover theft
Liability Insurance
While liability insurance is required in most states, this type of coverage provides only basic protection against costs associated with an accident, especially if you are found to be at fault.
That means that liability insurance will not be able to help you if your vehicle is broken into and your property has been stolen.
Collision Insurance
Like liability insurance, collision insurance helps you cover additional expenses stemming from an accident and is usually recommended to have alongside your mandatory coverage. This insurance can cover not only vehicle collisions, but also damage to your vehicle if you strike an object like a tree or fence.
However, collision coverage pertains only to damage done to your vehicle and does not cover any personal items in your car.
Types of insurance coverage that DOES cover theft
Comprehensive Coverage
Comprehensive coverage is often nicknamed "other than collision coverage," because it will cover the cost of damage to your vehicle and personal property if you're involved in a non-accident-related theft.
And despite not being required in most states, comprehensive coverage can be extremely beneficial in protecting you and your family from unexpected expenses when your belongings have been stolen.
Most comprehensive insurance policies will cover…
Theft of personal property in your vehicle
Vandalism to your car including graffiti, keying, and slashed tires
Fire by both arson and natural causes
Damage from severe weather, animals, or civil disturbances beyond your control
Replacing a vehicle that's been stolen
When used in conjunction with liability and collision coverage, comprehensive coverage gives you the total support for your costs when it's time to file a claim.
Homeowners Insurance
Auto insurance isn't the only form of insurance that can help you recover after having your personal belongings stolen.
Many homeowners insurance policies provide coverage for personal property outside the home, including your vehicle.
Some of the items covered by homeowners insurance include…
Cash value for items stolen during a break-in
Repairs or replacement of damaged items
Damage done to your vehicle due to theft
Most importantly, many insurance companies offer you the chance to bundle your home and auto insurance coverage, so you get the most protection at home, on the road, and everywhere in between.
Renters Insurance
Even if you don't own your property, you can still be reimbursed for items stolen from your vehicle while it's parked at your home.
Renters insurance is a type of coverage that gives tenants the benefits of homeowners insurance at a reasonable rate.
Additionally, renters insurance can prevent you from being held liable for repairs to your rental property if it's been damaged by theft, natural disasters, or other unexpected events.
What should you do if you experience a theft?
When it comes to getting the costs of your theft covered, it's crucial to take quick action and file a claim.
You can start this process by following these simple steps…
Call The Police
First, having a police record of any theft is an essential resource for filing an insurance claim.
When you call the police, you'll be able to provide a clear account of what happened, as well as a list of the items stolen or damaged, so that you can provide your insurance company with the most accurate information possible.
Contact Your Insurance
Next, you'll need to notify your insurance company that a theft has occurred as quickly as possible.
Your agent will be able to walk you through the exact steps of creating insurance claims and can offer you insight into how much you can expect to be reimbursed for your loss.
The sooner you file a claim, the sooner you can recover.
Provide Additional Details
Finally, insurance claims can be a meticulous process.
This means that you may be required to produce more documentation relating to the items stolen and the events leading up to the theft. We recommend keeping a thorough record of any high-value items you keep in your car so that you can get the maximum payout you deserve.
Get the most out of your insurance coverage today
No one wants to think about the possibility of dealing with theft.
But with the right insurance coverage, you can find the support you need to deal with an unexpected incident quickly and effectively.
Our team works hand-in-hand with you to generate the best home, renters, and auto insurance policies from over 40 leading carriers, giving you coverage you can feel confident about.
Connect with our team to find the best theft protection policy for your budget today.