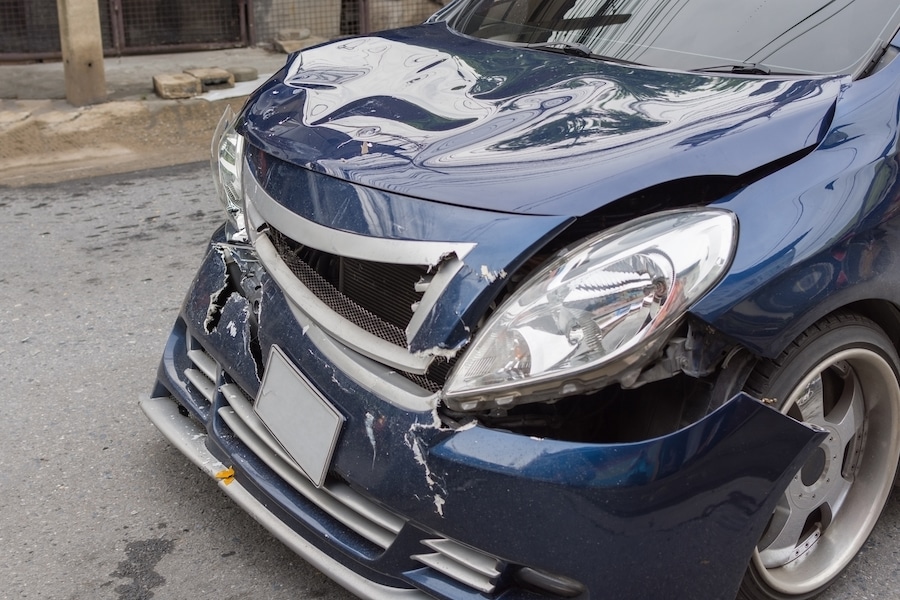 In the United States, almost all jurisdictions require drivers to maintain minimum levels of auto liability insurance. There are also various types of optional coverage that motorists may consider. In this post we will take a close look at comprehensive and collision coverage for Arizona residents.
What is Comprehensive Coverage?
Comprehensive coverage pays for damage that your vehicle incurs from things such as theft, vandalism, or a hail storm. Without this type of coverage, you would have to pay for losses or repairs "out of pocket."
This form of coverage is purchased in conjunction with collision coverage. When a motorist adds these two types of coverage to their liability insurance policy, they have "full" coverage.
What is Collision Coverage?
As the name implies, this form of coverage is used to repair or replace your vehicle following a collision. It is applicable in collisions with objects or those involving other motorists.
Unlike bodily injury coverage or property damage liability insurance, collision and comprehensive insurance may apply regardless of who is "at-fault."
Coverage Requirements for Drivers in Arizona
Arizona requires all drivers to maintain minimum levels of liability coverage. Current requirements are $15,000 in bodily injury per person and $10,000 for property damage.
Those leasing a vehicle or financing the purchase through a lender will be required to maintain collision and comprehensive coverage. The reason that a lender requires drivers to maintain these coverages is for their financial protection.
During the period when the borrower is making payments, the vehicle acts as collateral in case of default. If the vehicle was damaged or stolen and the motorist didn't have adequate coverage, that collateral would lose its value and the lender or motorist would have to foot the whole bill.
Understanding "Full Coverage" Auto Insurance
Collision and comprehensive auto insurance are generally purchased together on a policy. The term "full coverage" describes when a motorist adds these two forms of coverage. This is in addition to the minimum requirements of liability insurance. The difference between the two is that collision insurance covers damage that occurs while the driver is operating the vehicle.
Collision Insurance
When you are the cause of a crash that damages your vehicle, collision insurance is used. This is coverage that would be used if you strike a tree or ended up driving your car into a ditch. The cost of collision coverage has continued to escalate due to the higher costs of repairing today's newer vehicles.
Comprehensive Insurance
This coverage is applicable for use when the insured party incurs losses or damage that do not occur while driving. Some of the most common uses for comprehensive coverage are as follows:
Windshields: Damage to the vehicle's glass are generally covered by comprehensive coverage. Windshields are positioned in a vulnerable location and can be struck with considerable force. For example, a piece of metal or a rock may fly out of a truck bed on the highway. This flying object has some momentum of its own. It then strikes the windshield of another vehicle traveling at a high rate of speed.
Animal collision: The most common major collision that occurs between vehicles and animals involve deer. These animals are dangerous for various reasons. They can easily weigh more than 100 pounds. They are a taller animal that often will be dangerously propelled on to the windshield following impact.
Hail damage: A hail storm can potentially create significant damage to the exterior of a vehicle.
Fire damage: It is possible that an electrical problem can create a fire. When a fire is exposed to highly flammable materials such as gasoline, the damage may result in a total loss.
Theft: Comprehensive coverage can be used when a vehicle is stolen. Arizona is among the 10 leading states for the total number of vehicles stolen. The state's close proximity to Mexico makes it easy for thieves to transport stolen vehicles across the border to be sold.
Vandalism: Arizona law makes vandalism a felony when the damage is valued at more than $250. Unfortunately, it may not deter teenager troublemakers from randomly causing damage.
Falling objects: A storm or high winds can cause problems such as falling tree limbs that can cause significant damage to your vehicle.
Uninsured Motorist Coverage
This coverage protects you if involved in an accident with a motorist who does not have the required liability insurance. It may also apply if you are in a "hit-and-run" accident where a motorist flees the scene, leaving no one to pay for the damage.
Underinsured Motorist Insurance
Underinsured coverage protects a motorist if the cost of injuries or property damage exceeds the liability limits of the driver's policy. For instance, underinsured motorist insurance would apply if someone is involved in a crash that costs $12,000 worth of repairs to their car and the at-fault driver only had liability insurance to cover $10,000.
Other Optional Coverage
Many insurers offer medical payments or personal injury protection policies. These are specifically used to cover medical expenses in case you or your passengers are injured in an accident.
Perhaps you need surgical care for a broken arm? In very serious accidents you may also require a hospital stay or some type of therapy or rehabilitation. These costs can quickly become unpalatable.
Rental reimbursement are another common option. When your car is in the shop being repaired after an accident, the policy may offer a daily reimbursement amount towards renting a car. This is helpful in allowing you to continue to go to work and travel.
Understanding Deductibles
Comprehensive and collision insurance both generally have deductibles, which is the dollar amount a driver must first pay "out of pocket" when filing a claim. They often range from between $500 to $2,500. After the deductible is paid, the insurer pays the remaining costs of repair or replacement up to the maximum coverage limits. The average monthly premiums usually decrease as the deductible amount increases and vice versa.
Is Your Vehicle Costly to Insure?
The type of vehicle that you choose to drive has a considerable impact on comprehensive and collision insurance premiums. The worth of the vehicle itself is also a major factor. Insurers know that high-priced vehicles will cost more to replace or repair, so they compensate for that by charging more on the premiums.
Newer cars are more costly to repair because they are more likely to have advanced features, such as blind spot monitoring and rear cameras. On average, a five-year-old car costs roughly 12% less to insure than a new model. As the car ages, motorists can expect that rates will decrease by roughly 2.5% annually.
Do these new safety features result in lower rates? Many new advanced safety features are designed to help with preventing accidents. The problem is these additional features increase the costs of repairing or replacing the car. These vehicle owners may notice a slight reduction in the cost of their liability insurance, but these savings may be offset by an increase in comprehensive and collision coverage.
Hybrid, electric, or other "green" vehicles generally will cost more to insure. This is because higher costs may be incurred to pay for the damage. A recent report indicated that this increase equates to roughly 7% compared to traditional gas-powered vehicles.
| | | | | | | | | | |
| --- | --- | --- | --- | --- | --- | --- | --- | --- | --- |
| Most Expensive to Insure | | | Average Annual Premium | | | Least Expensive to Insure | | | Average Annual Premium |
| Audi R8 | | | $4,102 | | | Subaru Outback | | | $1,392 |
| BMW i8 | | | $4,032 | | | Chevrolet Colorado | | | $1,414 |
| Dodge Viper | | | $3,921 | | | Ford Escape | | | $1,438 |
| Nissan GT-R | | | $3,865 | | | Fiat 500X | | | $1,441 |
| Porsche 911 | | | $3,403 | | | Subaru Crosstek | | | $1,446 |
Factors That Impact the Cost of Comprehensive and Collision Policies
Insurance companies use statistical data to determine the rates of their policies for different drivers. They consider a host of factors that relate to the likelihood that you will have an insurance claim. These factors mainly are assessed to determine the likelihood that you will file an insurance claim. They will consider your demographics information. For example, teenage males will have higher premiums because they are inexperienced drivers and tend to take more risks.
Age and demographic. New and inexperienced drivers are among the most costly to insure. Aside from their inexperience behind the wheel, they are more prone to distractions and reckless decisions. Men pay slightly higher insurance rates than woman across most age ranges. Those who are married and those who own a home are more likely to have lower rates.
Location. Accident rates are generally evaluated by insurers based on your zip code. Your neighborhood may historically have a high rate of vehicle theft. Arizona ranks as #22 among U.S. states for the cost of car insurance.
Driving record. Those who are cited for traffic violations are typically going to pay higher rates. The insurance company will likely review your driving record initially and then each time the policy is renewed.
Claims history. Insurers will check your history of filing insurance claims. The more claims you file, even though these claims usually aren't because of your fault, the higher your premiums will rise. There is a central database that retains this data.
Credit history. In the majority of U.S. states, insurers may check your credit history when determining rates. Your previous history is a major factor in the rate you pay. Data suggests that those with a poor credit history are more likely to file an insurance claim.
Vehicle safety rating. All vehicles are evaluated for safety. They are subject to crash tests that may reveal the likelihood of serious injury in the event of a wreck. Insurers look at your recent driving record to see if you have any violations. They also look at your recent history of claims. The safer your car, the less your premiums should be.
Theft. Certain models of vehicles are more commonly stolen than others. Overall, auto theft rates have declined considerably since the 1990s. Arizona ranks close to the national average for the number of vehicles stolen.
Arizona drivers pay approximately 12% less compared to the national average. The following charts analyze two examples of how rates are impacted by certain factors.
Your Credit Rating
The following analysis was done showing how the amount of money paid by Arizona motorists changes based on their credit.
| | |
| --- | --- |
| Exceptional Credit Score (800-850) | $1,024.30 |
| Very Good Credit Score (740-799) | $1,238.79 |
| Good Credit Score (670-739) | $1,529.22 |
| Fair Credit Score (580-669) | $1,915.90 |
| Poor Credit Score (Less than 579) | $2,443.66 |
Your Geographic Location
The same organization also did a rate comparison based on where the policyholder lives in Arizona.
| | |
| --- | --- |
| Phoenix | $1,602 |
| Glendale | $1,536 |
| Avondale | $1,502 |
| Peoria | $1,409 |
| Mesa | $1,408 |
| Tucson | $1,362 |
The 10 Percent Rule
Some experts subscribe to a guideline known as the "10% Rule" for when to drop comprehensive and collision insurance. This means that the added annual cost for these coverage types should not surpass 10% of the vehicle's book value.
For example, if the value of your vehicle is $3,000, the additional premium cost should not exceed $300 annually. Keep in mind that this is merely a guideline and may not apply in all circumstances.
Finding Discounts for Auto Insurance
There are a tremendous number of discounts offered by auto insurance companies. Many providers offer discounts for those with a clean driving record.
One commonly offered discount is available to those who "bundle" other types of insurance together. An example would be purchasing your home and auto insurance through the same insurer.
Multi-car discounts may apply to those who have multiple cars or motorcycles. Some insurers will offer "usage-based" discounts. These may be available for those who drive significantly less than the average motorist. Those who are active in the military are also commonly eligible for discounts.
Benefits of Having a Local Agent for Comprehensive Insurance in Phoenix Arizona
In today's fast-paced environment, there are many benefits of having a local, independent insurance agent. You can save money and time because your agent can quickly compare insurance quotes from multiple insurance companies. Your agent will find a great policy suited for your specific needs and provide you with personal service and support.
Car Insurance Coverage for Arizona Drivers
The Gebhardt Insurance Group provides auto insurance solutions for drivers across demographics. With decades of combined experience, our team of professionals will assess the specific coverage needs for you, your family, or your business. Contact us today at (520) 836-3244 to speak with one of our local agents.