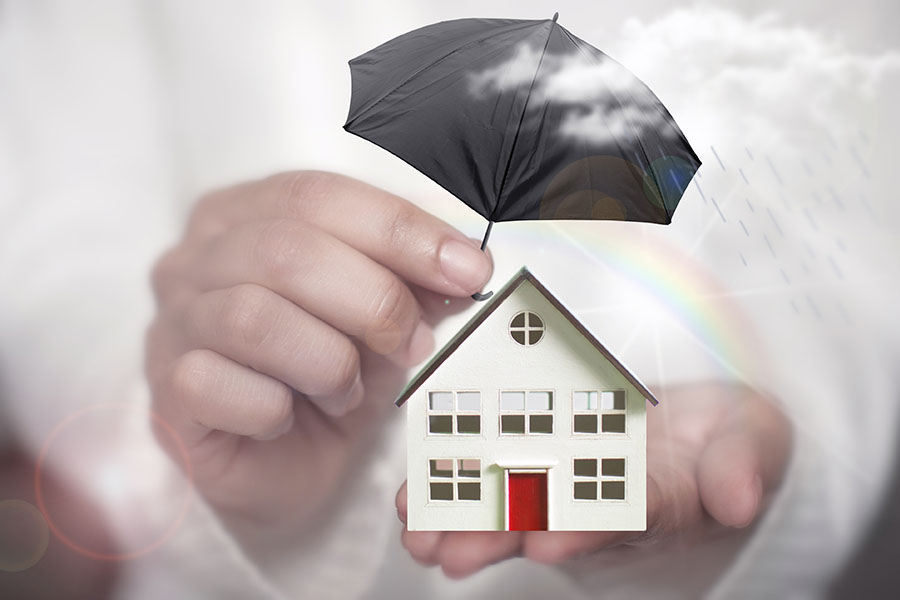 Are you shopping for home insurance? Most homeowners understand the need for carrying home insurance and don't debate its necessity. But many questions surround the topic, including:
What exactly is homeowners insurance?
What is covered?
Is it required?
What amount of coverage should I carry?
Does my current policy cover my needs?
Below we have answered and explained a few of these questions to help you understand home insurance and how much home insurance you need.
What is home insurance?
Home insurance is a type of property insurance that covers losses, damages, and repairs to a residence and personal property. Standard homeowners insurance will pay for the repair or replacement of your home in case of events like fire, tornado, hail, lightning, vandalism, explosion, even volcanic activity in certain areas.
What is covered under home insurance?
Rebuilding Structures
Homeowners insurance covers the costs of rebuilding a home structure in the event of damage or disaster. This dwelling protection includes damage to a main house and other attached structures such as a garage. Most policies also have the option of covering structures that are not connected, such as sheds, fences, guest houses, mother-in-law quarters, and others of the like.
This rebuild coverage includes every aspect of replacing the damaged home. Therefore, in addition to the structure and interior and exterior walls and finishes, utility systems are covered. These utilities include plumbing, electrical wiring, heating and cooling, etc.
Replacing Personal Belongings
More than just replacing the home itself, home insurance includes personal property coverage. In catastrophe or damage, the items inside your home will also be replaced, such as furniture, appliances, clothing, and other possessions. You will either be paid the actual cash value or the replacement cost of the property destroyed, depending on your policy.
The actual cash value is the amount you would receive if you sold the item today, less the depreciation of your property. Replacement cost coverage is the amount it would cost you to buy or acquire a new replacement, making it more expensive than actual cash value coverage.
Living Arrangements
If your home is damaged, and you need to seek shelter elsewhere while your house is being repaired, your home insurance policy will cover your additional living expenses. This is referred to as "loss of use" coverage in a home insurance policy.
Your policy will reimburse you for the cost of a hotel or rental stay, the cost of meals or groceries, and additional living expenses up to a certain amount. Typically, most insurance companies calculate this amount by paying 20% coverage for loss of use. For example, if your home insurance coverage is $100,000, your loss of use coverage is approximately $20,000.
Liability Protection
Further, a home insurance policy will give you personal liability insurance coverage. The typical amounts are between $100,000 to $300,000. This is enough to cover medical expenses from an injury sustained by any individual who was injured within your residence or property.
This coverage also extends to any legal costs you may incur in the case of lawsuits. This is an often overlooked aspect of a home insurance policy. Still, it is beneficial because being involved in a lawsuit can be very costly, and an insurance policy can ease the burden.
What is not covered under home insurance?
Damage from some specific natural disasters is not included in typical home insurance policies. For instance, damage caused by earthquakes requires a separate special policy. Those living in common earthquake zones should purchase this additional policy.
Flooding is also not covered by basic home insurance. If you live in a flood plain, you must purchase a separate flood insurance policy from the federal government's National Flood Insurance Program.
Is home insurance required?
There aren't any state or federal laws that require homeowners to purchase home insurance. If you seek a loan from a mortgage company, though, most will have a requirement that you carry adequate insurance coverage. Companies that do not require home insurance coverage typically have very high premiums to offset the risk.
How much home insurance coverage should I carry?
To quickly estimate the amount of insurance you need to carry: multiply the total square footage of your home by local square footage building costs. This will give you a basic estimate of the minimum cost you should carry.
This estimate does not give an accurate number of the total cost you should carry because it does not consider personal property, loss of use, or liability coverage.
It is important to note that most home insurance companies will only provide full coverage if the owner has purchased coverage equal to a certain percentage of the home's total replacement value. This percentage is typically 80%.
For example, if the total replacement of your damaged home costs $200,000, the dwelling coverage limit of your policy must be at least $160,000 to receive full payment.
To avoid this issue, many insurance companies offer extended replacement cost or guaranteed replacement cost options where applicable. These options mean you will receive 20% extra of your insurance coverage limit. Or your entire cost of replacing the home will be covered even if the policy limit is surpassed.
Others with significant investments or holdings may also purchase an umbrella insurance policy to cover claims in excess of a home insurance policy. Of course, you will have to pay extra premium costs for these types of policies.
Additional Cost Considerations
Knowing the true value of your home ensures that you buy the correct amount of insurance. Do you have upgrades such as custom woodwork, stone fireplaces, additional garages, sheds, or other special features? Make sure to buy additional coverage if you want these items to be covered too.
The age of your home and where your home is located may affect the amount you will pay for your insurance. If you happen to live in an area prone to severe weather, rates may be higher, or you may need to purchase additional policies.
Experts also suggest that you should know how quickly your selected insurance company will pay on your claims. Indeed, you would not want to wait for months before getting the amount needed to repair and replace lost property.
Does your policy have you covered?
For many people, owning a home is the most significant investment decision they will make in their lifetime. It can be a devastating and costly decision not to ensure that the home investment is adequately insured in case of disaster.
Recent studies reveal that a large portion of U.S. homeowners does not have sufficient insurance for their homes. This can be due to purchasing lower policies or perhaps not updating an old policy when the home value or changes are made. If you have a current policy, it is good to speak with an agent to ensure that you have the correct amount of coverage.
The peace of mind that home insurance coverage gives is worth every penny. If you are searching for a new policy or would like to update or replace your current policy, call us at the Gebhardt Insurance Group to speak with an insurance agent today.