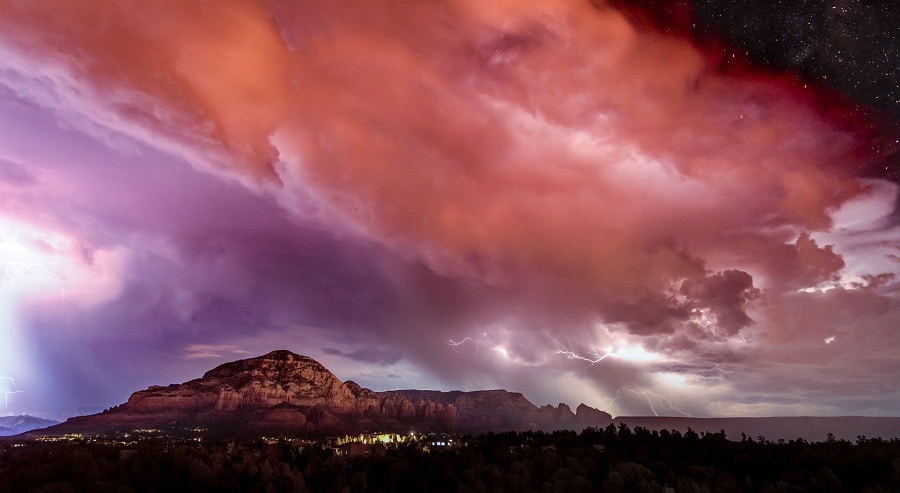 Monsoons are summer storms that can hit fast and hard, leaving significant storm damage and flooding in their wake. One of the most damaging things about monsoons is that, often, they come in waves, giving little relief in between storms. Before monsoon season hits, and in times in between, follow these steps to make sure that you are prepared for severe weather and storms.
Home Preparation for Monsoon Season
A monsoon can cause serious damage to a home, especially one lying in a low area. Check all roofs, windows, and doors for potential leaks or current signs of water damage, such as rotting wood or rust. Work with a contractor ahead of time in order to fix any damage now, and to re-apply any needed waterproofing, so it doesn't get worse after heavy rain.
If you have any valuables, such as expensive rugs or heirloom wood furniture, consider placing it in an especially secure spot, even in storage in order to protect it from potential water damage in your home.
Ensure that your home is well-ventilated, so that if water does come it your home will air out. If your home stays damp, mold can grow that will lead to additional post-flood headaches. Also consider investing in fans, so that you can more easily air out damp areas.
Make sure that drains are clear in and around your home. Standing water that cannot drain properly is a breeding ground for mosquitoes. It will also keep the area around your home moist for a longer time.
Prepare to be at home for several days with no electricity or running water. Stock up on bottled water – you should have at least three gallons easily available for each person and pet in your home. Invest in nonperishable food that does not need to be cooked in order to eat it. Check all batteries, and buy extra for flashlights and battery-powered radios. Make sure you have a full first aid kid, and get extra medication from the pharmacy.
Have an evacuation plan in place if you need to leave suddenly in the event of rising waters. Everyone in your family should know where high ground is and how to get there. In a flash flood, be prepared to leave quickly, taking only the bare necessities.
If you have additional time to evacuate, have bags packed with what you will need for a few days, including medicine, contact lenses, extra cash, and cell-phone chargers. Charge and pack cell phone battery chargers, in case you lose power for several days. Make sure everyone in your family knows the plan and put a plan in place to communicate with extended family to let them know when you are safe. Have a plan to check on neighbors, especially if they have small children or mobility issues.
Car Preparation for Monsoon Season
Only drive if you know it is safe to do so. Monsoons can lead to water levels rising quickly, meaning that roads might be unsafe to drive on. Waters can float cars away, and you don't want to be in a car that gets caught in a flood. If public transportation is an option, you should take it.
However, before monsoon starts, have your car serviced again. You want your car in top working condition if you do need to use it. Have the mechanic double check your wipers and lights. You want the best visibility possible if you have to drive in extreme weather.
Understand the terms of your automobile insurance in order to make sure you are protected in the event your car is damaged or lost due to a monsoon or flash flooding.
Talking to your insurance provider
Freak weather events, such as intense flooding from monsoons, can lead to significant damage. It is frustrating and emotional enough to process the possibility of losing everything you own, and incredibly daunting to think about replacing it. If you do not have flood insurance, or if your insurance does not accurately reflect the value of your home and belongings, recovering from flood damage will take more time and be significantly more costly.
Even if you are a renter, you should make sure you have renter's insurance that protects your belongings in the event of a disaster.
Contact an experienced insurance provider today in order to discuss your options for protecting your home and family when the unexpected happens. Our agents at Gebhardt Insurance Company will provide a free quote and answer your questions about the best way to ensure you are protected in the event of a monsoon.