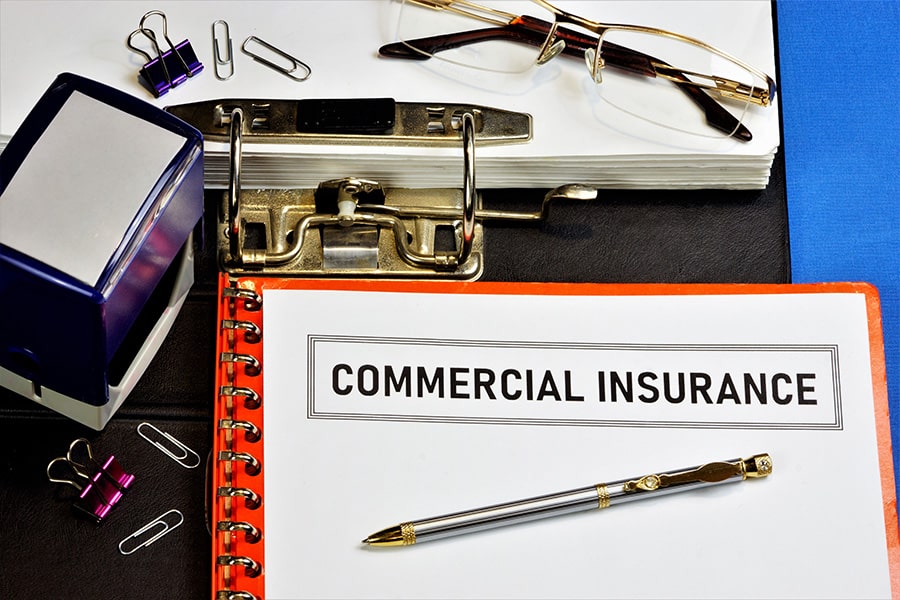 When you own a business, your number one priority is ensuring that your business thrives. You focus all your professional energy on implementing excellent procedures, sticking to a budget, hiring quality professionals and more. But what happens when all of that hard work comes crashing down because of an accident or calamity?
Do you have a plan in place if your business experiences a data breach? Are you financially covered if your business sustains property damage from a break-in? If not, you have a bit more work to do.
Securing commercial insurance coverage is one of the most important steps you can take to ensure that your business thrives. Depending on your type of business, you may think it's not needed. Or perhaps as a small business owner, you think you cannot afford it. But the truth is, that you cannot afford not to carry commercial business insurance coverage.
So what is commercial insurance covered and how does commercial insurance work?
Common Types of Commercial Insurance
Depending on your business needs, there are many different types of commercial insurance to choose from. Your business may need all that is mentioned and more, or only a couple coverage options.
Auto
Does your business involve deliveries or service calls? Then you need commercial auto insurance. Commercial auto insurance operates a bit differently than personal auto insurance because it is designed to cover the entirety of your business operations on the road, rather than individual drivers or vehicles. These policies may be a bit more expensive than a personal policy but they carry higher coverage and ensure that you, your vehicles, and your products are covered financially in the case of an accident.
Property
Do you have a store-front or carry inventory? Then you need commercial property insurance. This policy protects your business building whether you rent or own. It also covers your products and equipment for operation. If a natural disaster occurs, or if you building is broken into and sustains theft or vandalism, your property insurance provides the finances to help you get back up and running.
Liability
If people are involved in your business, then you need professional liability insurance. This includes patrons, employees, and yourself. If someone gets hurt in your store, including while working for you, your general liability insurance financially covers the cost of damages. Additionally, if someone files a claim against a person you are responsible for due to bodily injury or property damage, your liability insurance provides coverage for damages. This may include hospital bills, property replacement, or legal fees.
Workers Compensation
If you have employees, then you are responsible for their well-being while they are working for you. But what happens if an employee gets a work-related injury or illness? Workers compensation insurance ensures that they are compensated for the damage sustained. This may include cash or medical payments while they recover.
Cyber
Conducting business in 2023 means you likely use the internet and online programs to help run your business. This may include inventory logs, payroll, HR information, data storage, and more. With increased technology comes increased risk of a data breach. If this occurs, your business could incur financial repercussions. To avoid devastating loss or legal trouble, it is best to carry cyber insurance which includes services and financial coverage to respond to a breach and recover what is lost.
How Much Does Commercial Insurance Cost?
Determining how much your commercial insurance will cost each month depends on a number of factors. The number one element is determined by the type of business insurance you need. If your business does not involve driving or deliveries, you will not need commercial auto insurance. Similarly, if you do not have a store-front or a physical product, you will not be concerned with property damage. Other factors that affect your costs are the type of business you conduct, your location, the size of your staff or number of employees, how long your business or building has been in operation, and the amount of risk exposure your business is calculated to have.
How Can I Purchase Commercial Insurance?
Finding the best commercial insurance plan for you may take some time and effort. There are many insurance companies to choose from and even more policy options. But don't let that keep you from ensuring that your business is covered.
At Gebhardt Insurance Group, we make it our mission to find the right plan at an affordable cost for you. Our team members take the time to listen to your circumstances, understand your needs, and shop your options until a perfect match is found.
Don't wait. Call us today to begin a conversation about securing commercial insurance for your business.