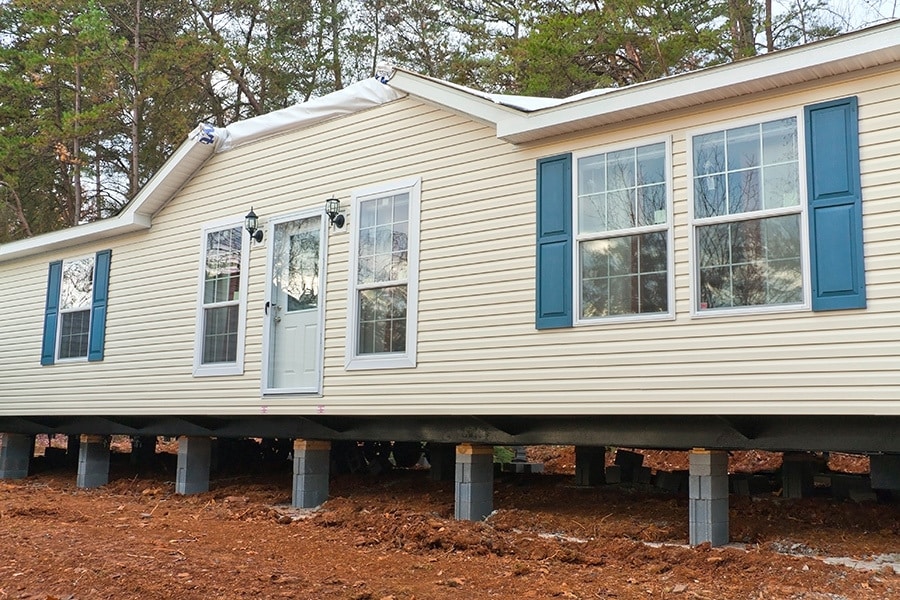 A mobile home is a prefabricated home, built in a factory and then moved to a location to be used as a permanent home. It is important to effectively insure your mobile home just as you would any other home. You want to make sure that your home, property, and liability costs are protected. Mobile homes are also called pre-fab homes or manufactured homes.
Mobile home insurance coverage can vary from a standard built structure. Some insurance carriers will not insure a mobile home if it is older than a certain age. Another consideration is how is your mobile home used? Some insurers may not insure homes that are only used seasonally or rented out. Different insurance carriers will have different coverage options and the same option might include different things depending on the carrier. It is important that you have enough coverage for your mobile home that works with your budget.
There are some many insurance coverage options for your mobile home to consider
Personal Property:
Personal property insurance is exactly what it sounds like. Generally, this insurance is purchased to cover the cost of replacing your personal belongings in case something should happen. When deciding on the amount of personal property insurance you need think about how much it would cost to replace all of your belongings; your jewelry, home furnishings, clothes, etc. Depending on the policy expensive items may or may not be covered and if they are covered you might have reimbursement limits. If you have valuable items you would like covered in case you ever had to replace them you may want to look at extended coverage on high ticket items such as jewelry, furs or watches. Including your high value personal items is an important step in making sure you are effectively insuring your mobile home.
Liability:
Liability insurance is needed to insure you against the cost of injury to yourself or a guest in your home. This insurance will cover you in case you are sued for an injury or damage to property. Liability insurance will generally have two categories included: personal liability and medical coverage. Personal liability covers situations where you are liable for injury to someone or property damage. The medical portion of liability insurance would pay any associated medical bills up to your limit and minus any required deductibles. There can be exclusions included in your liability insurance. Work with an experienced agent to understand your options and determine the amount of liability coverage you need. You want to be sure to have enough to cover any lawsuit expenses and amounts awarded to the injured party. You should consider your finances and assets and ask yourself what you could afford in the worst case scenario. Liability insurance can be increased or supplemented with additional coverage if your situation warrants it.
Other Structures:
Other structures insurance is also exactly what it sounds like. If you have an additional structure that is not attached to your primary home, this coverage would extend to that structure. If you have a tool shed or standalone garage that you would like to insure this additional coverage might be a good fit for you. You should also note that even if the structure is connected to the mobile home by wire or other loose connection you may need other structure coverage for the other structure.
Fire Department coverage:
Some insurance companies offer fire department coverage for your mobile home. Investopedia defined fire insurance as "Fire insurance is insurance that is used to cover damage to a property caused by fire". Fire insurance is a specialized form of insurance beyond property insurance, and is designed to cover the cost of replacement, reconstruction or repair beyond what is covered by the property insurance policy. Policies cover damage to the building itself, and may also cover damage to nearby structures, personal property and expenses associated with not being able to live in or use the property if it is damaged." Mobile homes face particular challenges when it comes to fire hazards due to the way they are constructed. Due to the size and structure of many mobile homes a fire can be difficult to put out and dangerous to responding firefighters. Owner modifications such as a pitched rood and undercarrier storage can also present a challenge to putting out a fire. The addition of fire department coverage would help with any costs charged to you by the fire department if they came to your home in the event of a fire emergency.
Optional Replacement Coverage:
This coverage would allow you to replace your damaged property with new property that is a similar material and quality without deducting amounts for depreciation.
Flood Insurance:
Most mobile home insurance policies will not include flood insurance. Pinal County has a website devoted to helping home owners determine the flood plain for their properties. Even if your mobile home is not located in a high flood plain it is important to consider flood insurance. While mobile home owners in Casa Grande, Arizona may not worry about floods as much as people living on the coast, in 2013 there was enough summer rain to cause some area flooding. Desert monsoons can come quickly and bring heavy, unexpected amounts of rain. Consider your location and if flood insurance is appropriate for you.
Being able to own your own home is a tremendous gift and typically your greatest asset. Be sure you are protecting your asset by effectively insuring your mobile home. With so many options available, consult an expert to make sure you have a budget conscious policy in place that addresses all of your insurance needs.