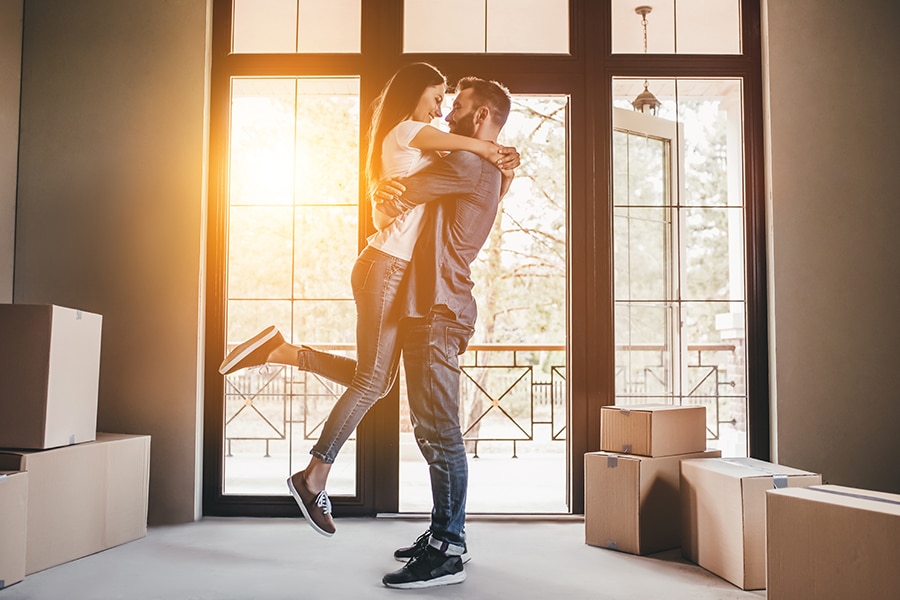 Buying your first house is one of the most exciting and scary times in your life. With so much to consider, it can be tough to make sure you are getting the best deal and the right place for you and your family. It can be fun to shop around but it can also be stressful to think that your next home will be your home for many, many years to come.
When shopping for your first home, be sure to learn about the neighborhood, considering the kinds of stores and public places you like to visit regularly. Also, be sure to shop around for mortgage loans that offer the best rates for your budget. When you choose a potential house, make sure to have a pre-purchase inspection so you don't wind up with any unexpected surprises when you move in. Finally, make sure you get good homeowners insurance to keep you covered against damage.
Let's look closer at each of these tips for buying your first house.
Learn the Neighborhood
Every city is different from the others and every neighborhood can be the same way. Some are fast paced while others are slower, some are urban while others are rural. Before you start looking at houses, consider what you want nearby when choosing a neighborhood.
Look at the kinds of stores you regularly shop at, what kinds of public services you enjoy such as parks and libraries, and look at the neighborhood's proximity to your job. Crime rates may also be a good aspect to look at when choosing a place to live. All of this information is available online with a few quick searches.
Shop around for Mortgage Loans
Not all mortgage loans are created equal. No matter your credit or finances, loan rates can be wildly different from one bank to the other. Pay close attention to the details of any offer and don't be afraid to get a few quotes and go back to a bank to ask for a matching rate. After all, if they don't offer a rate you like, they don't get your money.
As a first-time buyer, you will qualify for an FHA loan. This type of loan allows you to pay as little as 3.5% on the down payment rather than the standard 20% down payment of most mortgages. This can be a huge help in getting into your first house and making it easier to handle closing costs.
Also look for special loan programs. Some cities, states and even the federal government will offer special discounts to military veterans, teachers, healthcare professionals or government workers. You may qualify for a discounted mortgage payment you don't even know about.
Get a Pre-Purchase Inspection
Nobody likes surprises, especially when they involve costly house expenses in the form of repairs. Just because the house looked great when you took a tour does not mean that there are no issues beneath the surface. This is where a pre-purchase inspection will help.
Before buying a home, professional inspectors can be hired to look over a home from top to bottom, surveying the pipe systems, the water heater, the HVAC system and more. They will provide you with a detailed list of any moderate to severe issues the home may have so you can know how much in repairs you may need to perform down the line.
Armed with this information, you can take a few different actions. If you have the funds, you can simply buy the house and do the repairs. If not, you can ask the current owners to either perform the repairs or take enough cost off the asking price in order to cover the inevitable fixes. Finally, you can always walk away and look for another house.
Homeowners Insurance
One of the most important tips for buying your first house is making sure to find quality homeowners insurance. No matter where you live, a wide range of problems can arise that will only be covered by a homeowner's insurance policy. Usually this insurance covers basic property damage, such as storm damage or a tree falling on the house, along with basic liability damage, such as someone being injured while on your property.
Extra coverages are available and may be just as important as the base coverage, depending where you live. Flood insurance is a very good idea for those living near the coasts. For us in the southwest, monsoon season can be a headache if you don't have the proper coverages. Also keep in mind that mobile home insurance is a bit different due to the size and cost of mobile homes.
Just like your mortgage, be sure to shop around for the best rates and policies. There are many different levels of coverage and it is important to know what is covered and for how much.
These are just a few tips for buying your first house. With good planning you can make sure you get the best deal and best quality place that works for you. As with any major purchase, be sure to do your homework and learn as much as you can before making a purchase. Don't be afraid to ask questions and seek advice every step of the way.