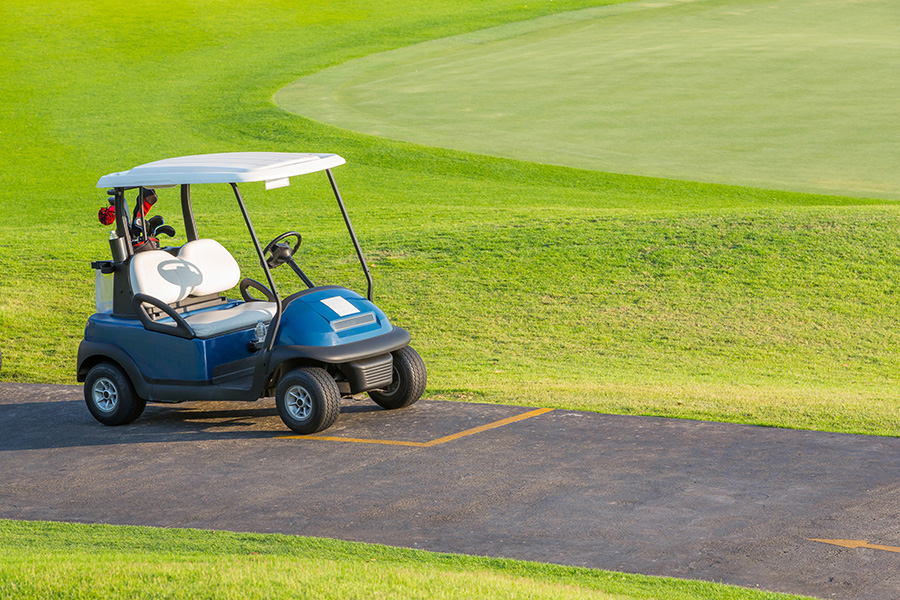 If you are the owner of a golf cart for personal or business use, you are not alone. Based on the growth rate and published research, there were an estimated 100,000 carts sold just last year!
There's no doubt that golf carts can be a lot of fun for personal and business use. You can take friends and family on rides around the golf course to hit a few holes. Or you can use a cart to help operate your business.
And if your golf cart is not your main transportation, you may wonder if you really need insurance for your for this slow-moving vehicle. The answer is a simple "yes!"
Whether you are traveling on the greens of your local course, driving a street-legal cart on public roads, or taking it along on your RV adventure, there are certain risks you face. It is wise to consider golf cart insurance in Arizona so your people and vehicle are protected in case of an accident.
More Than Just For Fun
Today, golf carts are for much more than just driving from tee to putting green or doing quick errands in the neighborhood. And they are no longer only for adult communities.
If you are in business, you know that golf carts have become an increasingly popular mode of transportation at large worksites, medical facilities, universities, and more. Many locations prefer these vehicles because of their compact size, less noise pollution, and easy operation and maneuverability.
For example, you may have employees that use golf carts for delivering mail, tools, and supplies around the workplace. Or you can drive individuals with disabilities across your hospital or medical center.
However, driving these low-speed vehicles (LSVs) around busy areas can present dangers. Accidents are more likely to happen with workplaces using golf carts and people and possessions are at risk.
What Does Golf Cart Insurance Cover?
Your auto insurance policy won't cover specialized vehicles for the most part. There's also a high chance your homeowner's insurance won't protect your cart either.
That is why you will want to purchase separate insurance to cover a golf cart. But beware, coverage for your golf cart will vary by state and even city. You will find that most of these insurance policies provide these standard coverages.
Collision coverage: Pays for golf cart damage if you collide with another vehicle or object. This pays to repair your low-speed cart, regardless of who is at fault.
Property damage liability coverage: If you crash into another person's property while driving, this coverage will pay for the damages. Property damage liability coverage will also come into play even if the law deems you responsible for the golf cart accident.
Bodily injury liability coverage: Insures you in cases where you injure someone else while operating your LSV cart. Common personal injuries in an accident can include concussions, fractures, and back injuries. A policy can help cover the other person's medical bills and similar expenses.
Comprehensive physical damage coverage: Your golf cart can suffer harm in ways other than head-on collisions. Depending on your policy, you can receive funds back if your bike is caught in a fire or flood, or if someone steals or vandalizes it.
There are also optional coverage add-ons such as Custom Equipment coverage for aftermarket parts, and roadside assistance in case you get a flat tire or need a tow.
Rules of the Road in Arizona
You and anyone driving your low-speed vehicle should understand Arizona state laws before jumping onto the greens or cruising down the road
For example, cart owners driving on public streets must register themselves as low-speed vehicles with the Department of Motor Vehicles.
Other regulations include:
A maximum speed limit of 25 miles an hour
No more than four people can ride, including the driver
Carts cannot be driven on sidewalks
They cannot be driven on private property without the consent of the property owner
A valid driver's license is required to operate on roadways, along with a minimum of $10,000 in liability insurance and $15,000 in bodily injury insurance
Keeping Insurance Costs Low
Several factors can affect the cost of insuring a low-speed vehicle, just like with your car policy.
Check with your insurance agent because you can often receive a discount if you get coverage for more than one LSV on your plan. However, your rates will likely be higher if you have violations or claims on your motor vehicle insurance policy.
Golf Cart Insurance in Casa Grande & Maricopa
Getting an insurance quote for your golf cart insurance in Maricopa, Casa Grande, and throughout Arizona doesn't have to be difficult. Our professional agents will shop the nation's top carriers to find you the absolute best golf cart insurance rates with the optimum coverage to meet your needs.
We can even bundle savings with more expensive insurance policies, such as auto and home, and decrease their prices. Experience matters the most when it comes to securing the best insurance and our team has served Casa Grande and now Maricopa since 2004.
Call or text us today at (520) 836-3244 to get more information on state requirements, insurance providers, and bond premiums. We would love to get you started comparing policies so you can get your best rate!