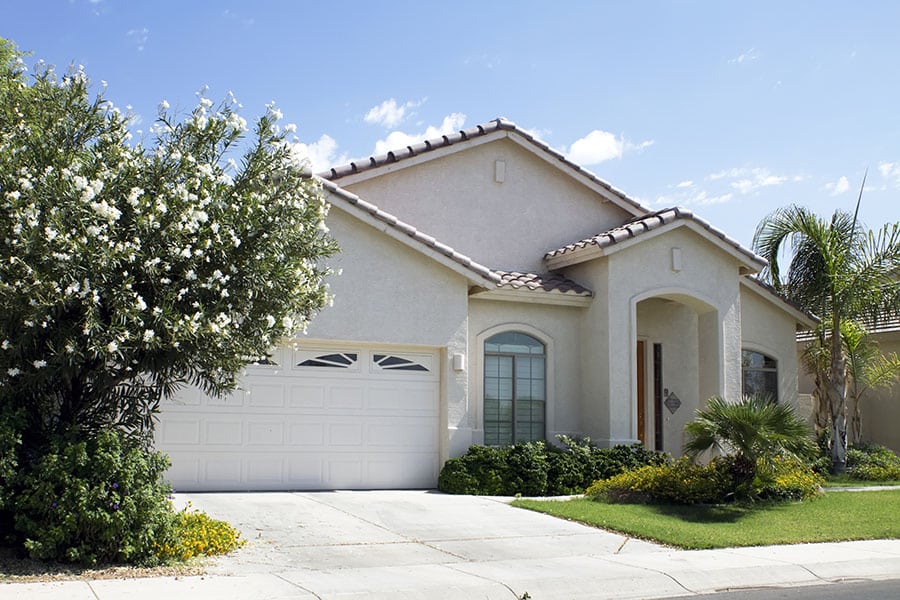 Your house is one of the most important things you own. Not only because it is likely the most expensive thing you own, but because it is where you lay your head at night. It is your safety and place of refuge. Therefore it is of the utmost importance that you ensure it properly against perils. In some cases, weather events, break-ins, accidental damage, and other circumstances may leave you feeling vulnerable or frustrated if you have to pay for repairs on your own. When you carry home insurance against these types of events, you can rest easy. Knowing that your assets are taken care of in the event something terrible happens gives you peace of mind that is worth every penny spent.
As an Arizona homeowner, you have a plethora of options to choose from when selecting coverage options and insurance companies. It can take time to research your options and understand the different coverages that are available. To help you make the right choice, we've provided an essential guide to Arizona home insurance to get you started.
The first task is understanding the types of home insurance coverage you can carry.
Coverage Options
As a homeowner, you can decide which items you would like to insure, what you would like to insure them against, and how much you would like to insure them for. In most cases, you have the option to insure your home, the items in your home, and the people in your home. You also must decide which types of events you'd like to insure against, including but not limited to natural disasters, theft and burglary, accidents, and other damages.
Hazard Insurance Coverage
Hazard insurance is also called dwelling coverage. It insures the parts of your house that make it a house or dwelling. This includes the dwelling structures, such as the roof, flooring, and walls. It also includes attached structures such as decks, porches, and garages. In most cases, dwelling coverage also includes built-in systems that are permanently attached to the home, such as air conditioning and heating units.
Household appliances such as refrigerators and dishwashers are not covered under dwelling coverage. Likewise, unattached structures such as sheds, fences, and unattached guest quarters are not included under dwelling coverage, but these components may be covered under separate insurance policies.
Personal Property Coverage
Personal property coverage insures the items inside your home that are not part of the structure or built-in. This includes all of your personal belongings, such as furniture, appliances, electronics, and other household items. In most cases, you select the amount of coverage you'd like in a dollar amount, which determines your personal property home insurance rate.
If there are specific expensive or important items you'd like to insure, such as jewelry, family heirlooms, or artwork, you will likely need to purchase a separate policy for these, as high-dollar items are not typically covered under basic personal property coverage.
Liability Coverage
Liability coverage insures people who may be accidentally injured on your property. It also protects you and your family against being held liable for damages. For instance, if a friend or neighbor gets hurt on your property, your liability may assist in paying their medical bills. This friend or neighbor could also potentially sue you for damages. Therefore, when you carry liability coverage, your assets are protected in a lawsuit. Liability insurance also insures against accidental property damage that you or your children might commit against a neighbor's property. Depending on your policy, liability coverage may also cover damage caused by your pets in your home and in the home of another.
Common Claim Types
Luckily, Arizona does not have a wide variety of natural disaster events in the state. But even though the options are not various, the few options that are likely can be quite disastrous. Due to the southern location and warm climate, cold and snow-related disasters are mostly non-existent. But in an interesting juxtaposition, Arizona is subject to disasters brought on by the dry, hot climate and also the sudden rainy season. Therefore, Arizona residents need to be prepared to insure their property against fire and water alike.
Understanding the different claim types that are common among Arizonans can help you choose the right coverage needed to protect your home. Keep in mind that the large size and diverse topography in Arizona mean that many of these scenarios are dependent upon your zip code. Therefore it is best to speak with a representative about your exact location before ruling out any type of coverage.
Wildfire Damage
In the past, wildfires were not especially prevalent in Arizona. Unfortunately, environmental changes have brought wildfires to Arizona in more significant numbers and with higher frequency. This is due to historical temperatures, extended droughts, humidity decreases, and dry Arizona vegetation. Therefore, Arizona homeowners need to be aware of the potential and carry the proper amount of insurance to recover any assets that could be lost in a breakout fire.
Fortunately, fire damage is typically covered under basic home insurance coverage, whether due to wildfire, lightning strike, or accidental damage. Though not all fire scenarios are covered, such as intentional fires and fire brought on by acts of war. It's essential to know your policy and ensure you have extra coverage if you are concerned about the risk of uncovered scenarios.
Earthquake
Did you know that Arizona sits on around 100 fault lines, according to the Arizona Geological Survey? So even though large or catastrophic earthquakes are not common in Arizona, they are not impossible. And even more possible are small-scale earthquakes or tremors. These do not tend to do incredible damage but can shake a home and damage the foundation, weaken walls or pipes, or break interior property that falls during a shudder.
Earthquake damage is not covered under most home insurance properties. Therefore, if you would like to protect your home and belongings against damage caused by an earthquake, you must purchase a separate insurance policy.
Flood
Those who do not live in Arizona associate Arizona with dry deserts and blooming cacti. Therefore new transplants are often surprised to find that many places in Arizona suffer from yearly rains that bring on floods. Monsoon season can be quite dangerous to you and your property because it is unpredictable and uncontrollable. Just because you have not suffered from monsoon damage in the past does not mean you will not incur damage in the future. Therefore, insuring your home against flood waters is extremely important. Even in dry Arizona.
Water damage from busted pipes or water backup in toilets may be covered under your insurance policy, depending on the source of the water or damage, but flood insurance is not included in standard homeowners insurance. It is backed by the National Flood Insurance Program. Therefore it is incredibly vital that you speak with an agent about the type of coverage you need against flooding.
What is not Covered with Home Insurance?
A standard home insurance policy covers most damage that occurs to your home and property. Covered perils include fire, lightning, and hail damage, as well as theft, vandalism, burglary, and explosion damage.
Claims not covered under standard home insurance policies are those due to earthquakes or floods. If your Arizona home is in a flood plain or is near a fault line, speak to an agent about adding additional policies to your insurance to ensure that your belongings are covered if these events should occur.
Tips for Buying Homeowners Insurance in Arizona
When searching for homeowners insurance in the Grand Canyon State, it's important to make sure you are getting the best deal. There are often discounts for installing a home security system, sprinkler system, having a good credit score, or for bundling multiple policies with the same company.
It is essential to gather as many insurance quotes as possible to compare quotes based on your specific needs. Don't just purchase a policy with the first company that shows up on an internet search; they may not be offering the best deal for you.
It is also vital for you to ensure that you are carrying the proper coverage. For instance, finding a policy that offers replacement cost coverage versus actual cash value will ensure that you can totally replace the items you lose when filing a claim rather than receiving a portion of what that item is now worth due to depreciation.
Our best tip for purchasing home insurance is using an agent to find the best plan. An agent who is familiar with your area will know the proper coverage you need based on your zip code and will also know the best deals offered by the best companies.
Buying Home Insurance Through Gebhardt
We know that finding home insurance can be overwhelming. We also know that finding an agent you can trust is also an overwhelming task because you want to make sure that you are not being taken advantage of or sold a sub-par product.
When you work with our customer service team at Gebhardt to secure home insurance as an Arizona resident, you are in good hands. We do not sell you overpriced insurance to pad our own pockets. Our job is to search local and national insurance companies to find the best deal for you.
At Gebhardt, we have the inside information on average rates for your zip code with over 40 top insurance carriers, including State Farm, Progressive, and more. Let us do the research for you and present you with the best options for your needs. Additionally, we are available to explain the differences between plans and different types of coverage options and answer any questions you may have about home insurance for Arizona residents.
Ensure that you are insured and work with a member of our team today.