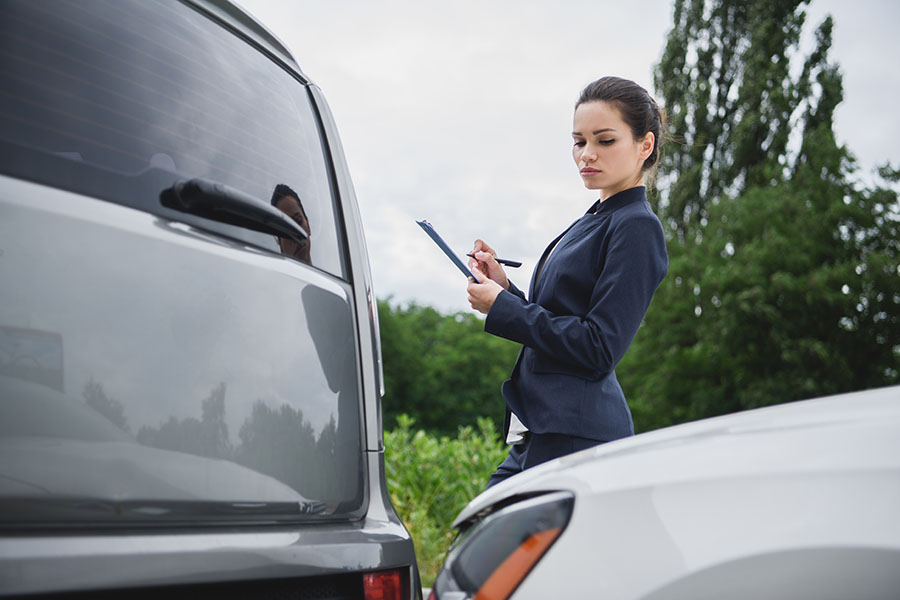 The purpose of car insurance is to provide economic compensation if something unexpected happens involving your vehicle. The insured party enters an agreement with an insurer that contains the terms. This includes details such as the policy coverage period, the maximum limits of coverage, and the cost (premium). As with most types of insurance, states develop their own set of rules and provide some oversight in the market.
"How do I make my car insurance affordable?" is one of the most frequently asked questions about auto insurance. The key to understanding how to make insurance affordable is understanding how car insurance works.
Why Is Auto Insurance Important?
It's a Requirement if Your Vehicle is Leased or Financed
If you are thinking about skipping insurance in the name of pinching pennies, think again. If you are leasing your vehicle or have a loan, your finance company will require you to have insurance. The lending company needs to ensure that your insurance will cover the cost of repairs or replacement if the vehicle is damaged.
Many lenders and finance companies require insurance in the amounts of 100/300/100. This means you have $100,000 bodily injury liability insurance per person, $300,000 total bodily injury liability insurance per accident, and $100,000 property damage liability per accident. You will usually have to have proof of the minimum required insurance before a lender will finance your vehicle.
It's a Requirement by State Law
Finance companies aren't the only ones that require car insurance. The government also legally requires you to insure your vehicle. This is determined at the state level. Each state has its own minimum requirements so if you move, make sure that your insurance meets your new home's insurance minimums.
For Casa Grande residents, the state of Arizona requires minimum coverage of $15,000 bodily injury liability per person and $30,000 per accident. There is also a property damage minimum coverage of $10,000. When it comes to types of car insurance, the bare minimum can be dangerous.
If you only carry the required state-level amounts, an accident can cost you much more in bills and expenses than your insurance will cover. Work with a skilled agent to make sure you have enough coverage at a price you can afford. There are many ways to bring down car insurance premiums without sacrificing the coverage you need. Having financial protection will give you peace of mind.
It Provides Assistance When Accidents Happen
More than 90% of car accidents are the result of human error. In recent years, we have recognized the dangers of distracted driving. The Centers for Disease Control and Prevention estimates that distractions cause nine accident fatalities each day in the U.S. The problem is mostly the result of drivers who are using mobile devices. Newer vehicles are also equipped with more sensors that create visual and audible distractions and onboard electronics.
The prices of newer vehicles continue to rise. Many people do not have the cash-on-hand to repair their car if it is significantly damaged in an accident. In fact, 40% of Americans would be unable to pay for an unexpected expense that exceeds $400 without borrowing.
Between 2015 and 2017, there were 7.4 insurance claims filed for every 100 people. Lenders require those who are financing a vehicle to maintain "full" insurance coverage.
Know Your Policy and State Requirements
You need to read your policy and understand your type of coverage. If you purchase a policy without understanding it, you may not realize your coverage gaps until it is too late. Liability, personal injury, and property damage insurance are all crucial facets of your policy. What you don't know can hurt you and your wallet.
For instance, if you are in a car accident, your insurance policy may only cover your vehicle's value. If your car is fairly new and the rate of depreciation is high, the car's estimated value may be much lower than what you owe.
This means that the reimbursement from your insurance company might not be enough to pay off your damaged vehicle, much less help you get a new one. Your comprehensive coverage will only cover the damage to your car if caused by something other than accidents like theft or fire.
Gap insurance is designed specifically to help bridge the "gap" in circumstances like this. It can help you pay off the remainder of your vehicle so that you can start fresh. This is just one example of possible policy gaps and why you need to know what is and isn't covered.
Those registering a vehicle in the state will need to have proof of liability insurance coverage. This covers other people and their property in an accident. Insurance companies in Arizona must notify the Motor Vehicle Department when a policy is canceled, not renewed, or a new policy is issued. Drivers must have proof of insurance with them in case they are stopped by law enforcement. They may show this proof using a smartphone.
Bodily Injury and Property Damage Liability
The state-mandated bodily injury coverage is used when a driver causes injuries to others. This coverage does not pay for injuries sustained by the party who is at fault in an accident. The property damage coverage insurance pays for damage caused to other vehicles, objects, etc. It is worth noting that the mandated minimum liability coverage also applies to motorcycles, mopeds, and personal golf carts.
Understand the Money Mechanics of Insurance
Understanding how car insurance works helps you make informed, affordable choices. Car insurance companies make their money by collecting more in premiums than they pay out in claims. Many factors go into your insurance rates.
Statistics: All insurance companies will compare your basic information to current statistics. If you are a male, 18-year-old driving a sports car, your insurance rates will most likely be much more expensive than a female in her 30's driving a minivan. This is primarily because of statistics.
The numbers show that women and more experienced drivers are less likely to be in an accident. Similarly, a minivan driver is much less likely to be in an accident than a person behind the wheel of a Ferrari. While you may be a very responsible, law-abiding teenager with a new sports car, your insurance rates will initially reflect statistical averages and not your specific situation.
Driving record: Generally, the better your driving record, the better rate you can get. Additionally, as you become more experienced behind the wheel, you will be eligible for the best possible rates. Insurance companies prefer responsible drivers with few or no claims.
Suppose you have an accident or traffic violation such as a speeding ticket. In that case, your insurance company may automatically increase your rates. The best way to keep your rates down is to keep your record clean.
Affordable premiums: There are ways to make your premiums affordable. A good agent will review your policy with you and help you stay within your budget.
For instance, you can usually decrease your premium by increasing your deductible. This should be done strategically. While a lower monthly premium is tempting, you need to make sure you have a deductible you can afford.
You can also save money by bundling in one company. By using one company for multiple policies, you will usually be able to take advantage of deep discounts, giving you lower overall premiums. Also, don't be shy about shopping around. There is lots of competition in the insurance industry, which is good for the consumer.
Penalties for Failing to Maintain Coverage
Those operating without the mandated insurance that the state requires will face a driver's license and registration suspension, in addition to fines. To restore driving privileges, the motorist must obtain an SR-22 Certificate of Insurance, and they must maintain it for three years. Those who do not reinstate their Arizona license from failing to have insurance will be unable to obtain a driver's license in another state.
Other Types of Auto Insurance Coverage
Uninsured and underinsured motorist: Uninsured motorist coverage is used if you are involved in an accident caused by an uninsured driver. Underinsured coverage applies when the driver responsible for the accident has insurance coverage limits that are insufficient to cover the full cost of damage.
Collision: This coverage is used to pay for car repairs or your vehicle's replacement when involved in an accident. It is most commonly used when you are the at-fault driver in an accident. It also may apply if you were to strike a tree or other object while driving.
Comprehensive: This form of coverage is commonly referred to as "comp." It is purchased in conjunction with collision coverage to obtain "full" coverage. It is used to repair or replace your vehicle stemming from an event other than a collision.
Common examples include theft, vandalism, or fire. Full coverage policies often contain a provision covering the cost of a rental car when necessary during repairs.
Medical Payments: This coverage is commonly referred to as "Med Pay" or Personal Injury Protection. This option will cover any medical bills for you and typically any passengers in your vehicle. Examples would include if you needed an expensive surgical procedure or rehabilitation. Those who lack health insurance coverage are among those most likely to purchase it for medical expenses.
Questions About How Car Insurance Works?
We've got answers! Knowing how car insurance works helps you get the coverage you need for a price you can afford. The Gebhardt Insurance Group is an independent insurance agency that represents many of the leading auto insurance companies.
Our customers benefit from our personalized approach. We will look closely at your individual circumstances to make sure you have proper coverage for you and your family. Contact our office today at (520) 836-3244.