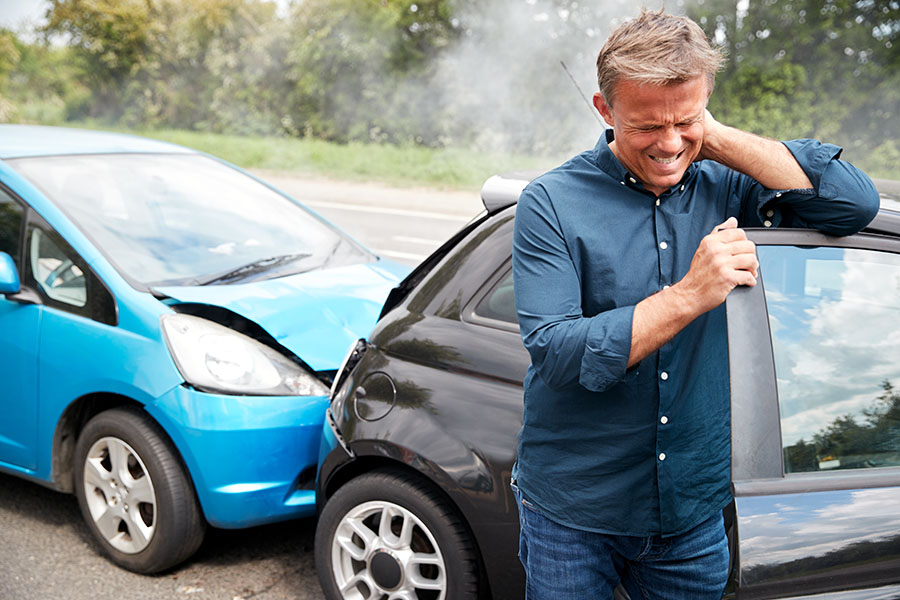 It can be scary thinking about a potential car crash, especially if you don't have enough to cover the damages. But it's even worse when the other person causes the accident and can't afford your vehicle and injuries.
How does your family recover from the crash, tend to its wounds, and fix a totaled car?
Most states require uninsured and underinsured motorist coverage to give your family peace of mind during at fault crashes. Instead of paying these expenses yourself, a portion of your car insurance covers the excess.
Read more about how auto insurance carriers cover your family with uninsured and underinsured motorist insurance.
What is Uninsured and Underinsured Coverage?
While states may require them as a part of minimum car insurance protection, both differ from each other.
They'll pay for unexpected accident expenses the other driver caused, but the coverage types apply depending on how much insurance the at fault driver has.
Again, these protections exist outside of the general collision coverage and liability coverage where you could have caused the crash.
Uninsured Motorist Coverage
You can protect your kids, vehicle, property, and more when the opposing party doesn't have any car insurance. The carrier covers these bills up to the amount of coverage on your policy.
Underinsured Motorist Coverage
Underinsured motorist coverage is a similar protection that helps pay for car accident expenses you didn't cause.
The other driver does have car insurance but not enough bodily injury or property liability protection to pay for your losses. This rings true in major car crashes where an ambulance sends you straight to the ER.
How Does Uninsured and Underinsured Coverage Work?
You'll receive payment for economic and non-economic damages in a car crash from uninsured and underinsured coverage. However, each protection works in driving situations based on whether the other driver has insurance and how much they have.
Uninsured Scenario
For example, a reckless driver might shoot through a red light and slam into your vehicle. It's only after ripping off the door that you come to find out they have no car policy.
As a result, you'll receive $50,000 for injuries and repairs if the underinsured motorist coverage limits are high enough.
Underinsured Scenario
Breaking your neck in an accident with an 18-wheeler, they might only have Arizona's minimum car insurance limits and not have enough for your surgery and ambulance ride.
How underinsured motorist coverage works in this case is paying the difference. If they only had $25,000 in bodily injury liability and the bill was $75,000, your policy would give $50,000 if that is your protection amount.
Does the State of Arizona Require Uninsured and Underinsured Coverage?
Many states force drivers to carry underinsured and uninsured motorist insurance as a part of minimum car coverage. They ensure you can afford to get hit by an uninsured driver and that the at fault party compensates you for pain and suffering.
In Arizona, this is not the case. You can get away without purchasing either coverage and have a cheaper payment each month.
The trade-off is not having protection when an uninsured or underinsured driver crashes into you. 1 in 8 drivers on the road are uninsured, so there's a good shot you could deal with this challenging predicament.
How Stacking Works
You might have heard of some families stacking car insurance if they had multiple cars on the same policies, whether they were teenagers or collector cars.
They do it as a cheaper way to afford underinsured and uninsured coverage and double the protection amount.
We can tell you that it's not possible to pull this off in Arizona, and carriers prevent you from doing this. The great news is you can still get plenty of protection for an affordable rate if you work with an experienced agent or broker.
How Much Does Uninsured and Underinsured Coverage Cost?
Many drivers we work with want to know how much uninsured motorist coverage costs and how much they'll pay for underinsured protection.
On average, you'll pay an extra $33 to $76 per year for $25,000 to $50,000 in protection amounts. And then most companies ask for $86 to $134 for $100,000 to $300,000 protection amounts.
The price is worth it each year since a single crash costs thousands, even for minor injuries and cosmetic damages. You'll save more in the long run by paying a small portion of the car policy each month.
How to File for Uninsured and Underinsured Coverage
Car insurance carriers make it easier than ever to file an accident with uninsured and underinsured coverage.
Just like making a claim for motorist property damage coverage or personal injuries, you'll give the insurance company a call. Let them know you got in a wreck that the other driver caused and provide a copy of the police report if it's available.
Your injuries and vehicle damage may progress over the next several months, so the compensation process may take a while. But the insurance adjuster will send a proposed amount and cover what you deserve.
We recommend working with an auto accident attorney in major car crashes. The total settlement can be hundreds of thousands of dollars and it's best for a trained lawyer to fight for your highest settlement.
Get Covered When It's Not Your Fault
At-fault accidents caused by the other driver are not something you can control. It's unfair to suffer life-threatening injuries and vehicle damage from someone else's recklessness.
And it's even more of an insult when they can't pay for their wrongs.
Our team specializes in finding you the cheapest underinsured and uninsured motorist coverage in Arizona.
We compare over 40 car policies for other coverage types like property liability insurance, bodily injury insurance, and collision insurance. It's our job to find you the cheapest policy all-around with the most protection.
To speak with an experienced broker and hear a few numbers, call our friendly team today. You can reach us at (520)-836-3244, and we'll reach back as soon as possible.