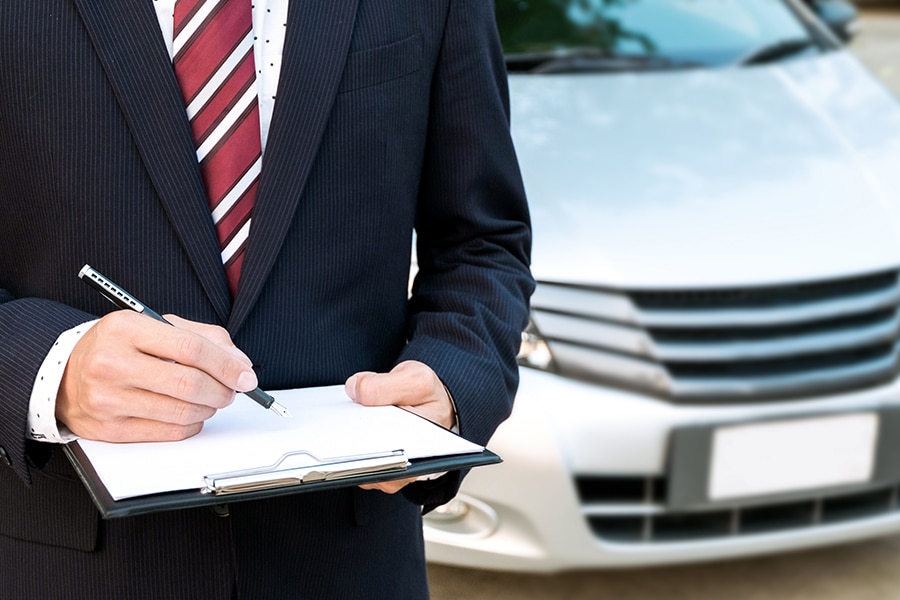 Car ownership and driving on the road are huge responsibilities. Holding the safety of your vehicle, passengers, and others, it's natural to want full coverage. However, you may be on a budget, confused about how much car insurance do I need, or have a difficult time switching to cheap car insurance.
The United States has legal requirements for each state with auto insurance, so getting more is a personal choice. Arizona has its own minimum liability and personal injury coverage, but it will not protect everything in a crash.
We recommend having more than the state standard so you don't have to fear if you get in an accident. Roadside assistance, collision insurance, and other additions to your policy can bring peace during a stressful car crash.
It's essential to know the types of insurance available to you, the insurance you are required to carry, and other options you may wish to carry. Then, you can decide how much car insurance you need and work with a broker to get it.
Types of Car Insurance
There are several different types of auto insurances on the market. But they all fall under these four main categories: liability, collision, comprehensive, and uninsured/underinsured motorist.
These insurance types are essential to understand because each operates differently and covers different scenarios.
Liability Insurance
Liability insurance covers damages you cause on the road to other drivers and their property. This includes medical bills in the case of bodily injury and repair work for vehicle damage. However, it does not cover damage to you or your vehicle.
Our team suggests carrying more than just the minimum liability coverage. It's the wisest choice so you don't end up paying out of pocket if you cause an accident.
Collision Insurance
You'll want to carry collision insurance for the car insurance company to repair or replace your car in an at-fault accident. Most drivers pay for some amount of collision coverage, even though states don't require it.
In most cases, leasing companies and lienholders ask you to purchase it on a vehicle you don't own.
Comprehensive Insurance
Comprehensive insurance pays for vehicle damages that a collision with another car or object didn't cause. These include hail damage, vandalism, theft, flood, or fire. After you agree on a deductible, the insurance company will pay for repairs.
You may decide not to carry any comprehensive coverage but the policy won't cover your vehicle in the case of bad weather or break-ins.
Uninsured/Underinsured Motorist
Most states require uninsured or underinsured motorist coverage in situations where the at-fault driver doesn't have any insurance or enough insurance. It differs from collision and comprehensive coverage to give added protection when your car suffers from someone else's negligence.
While the opposing driver may not have enough coverage to repair damage to your vehicle or cover your medical bills, an uninsured and underinsured policy will.
Car Insurance Required By Law in Arizona
Because each state has different requirements, it is wise to keep informed of your state's laws. As a driver in Arizona, it is your responsibility to ensure that you meet the state-required minimums.
The state only requires drivers to carry liability insurance with the following minimum coverage amounts:
$25,000 for bodily injury per person
$50,000 for bodily injury per accident
$15,000 for property damage per accident
These mandatory coverages are pretty low and may only cover part of your vehicle damage in an accident. If you're found at fault, you'll have to pay the total amount your car suffered. That means the cost will go straight out of your bank account if it's higher than the minimum liability insurance.
Arizona has penalties for not carrying at least the minimum amount of coverage. If you are found to be driving without the required coverage, you'll gain fines and a suspended license. Your consequences increase over time and will not stop until you obtain a policy.
Additional Coverages
There are many additional types of insurance coverage that cover different situations. The following coverages are not required in any state or by most insurance companies but are options you may choose to carry for your own benefit.
Umbrella Insurance
This supplemental insurance is intended to operate as additional liability coverage. You may wish to carry umbrella insurance if your minimum insurance is low or if your chances of incurring liability damages are high.
Having this type of coverage is most important in a lawsuit after a car crash or if you have an expensive vehicle to protect.
Gap Insurance
Gap insurance is necessary to carry if you bought a new vehicle with a financing option recently. The acronym stands for "guaranteed asset protection."
The amount you still owe on the car loan may be more than what the car is worth if you total it. In that scenario, gap insurance would pay for the difference and put it into your pocket.
Similar to collision insurance, your lienholder may require that you carry this protection as a requirement in your lending agreement.
Personal Injury Protection (PIP)
This type of insurance is available in Arizona and covers medical bills regardless of who is at fault in an accident. Your carrier delivers the reimbursement after you've paid for the damages.
It is a good idea to carry some amount of PIP if you don't have health insurance or your health insurance coverage is lousy.
Rental Reimbursement
If you are in a car accident, you may still need to drive when mechanics are repairing the vehicle. Rental reimbursement insurance covers the cost of a rental car while you don't have your vehicle.
You may opt out of this coverage, but it's smart to carry this protection if you don't have access to another car. The additional monthly cost of rental reimbursement is not very significant and is a substantial help in an incident.
Need Assistance Finding Coverage?
Knowing how much car insurance coverage to carry can seem overwhelming. Of course, you need to carry the state-required minimums, but how do you decide which additional coverages you should carry for your benefit?
Having all this information and these options may make it difficult to choose, but you do not have to figure it out on your own.
Our professional team of experts is available to walk you through your options and help you make the best choices for your specific lifestyle and circumstances. We can compare with over 40 carriers to give you the amount of car insurance you need at a cheap rate.
If you need to review your current coverage or would like to price match for a new car policy, give us a call today.