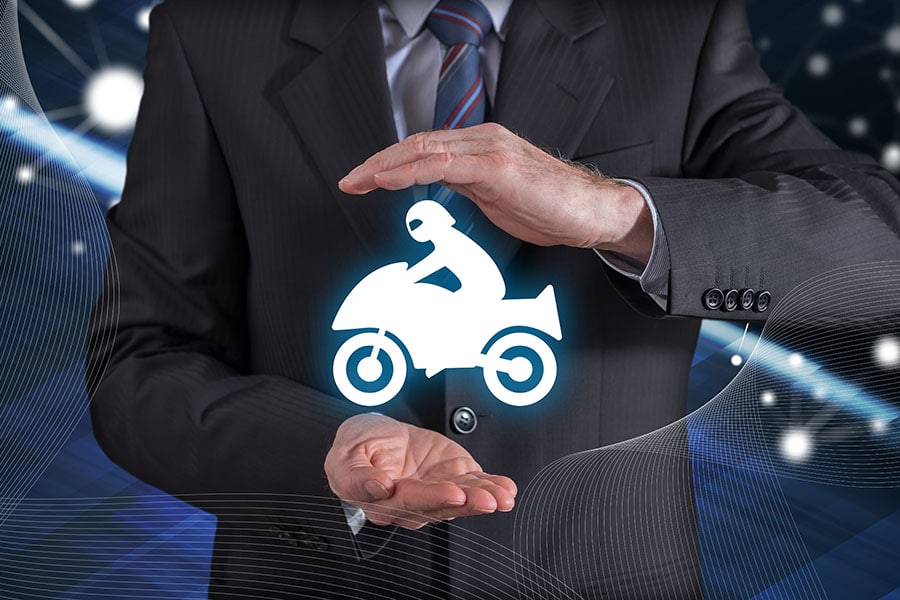 Cruising down an open country road is a symbol and feeling of freedom like no other. Many drivers gravitate to a bike for the thrill, speed, and friendship that is commonly associated with motorcycle enthusiasts. But along with this freedom and excitement come many risks.
In 2019, the Arizona Department of Transportation reported that there were 2,679 motorcycle crashes throughout the state. This led to 170 deaths and 2,235 injuries. Many factors contribute to collisions and accident severity including speed, alcohol use, seat belts, and distractions.
All states have liability insurance requirements for motorists that vary by state. To register any vehicle in Arizona, you must show evidence of financial responsibility coverage. Those buying motorcycle insurance should understand the required and optional coverages available and the factors that influence the price of premiums.
Benefits
There are many benefits to owning a motorcycle over a car. The cost of an average priced motorcycle is much less expensive than buying a new or used vehicle. Owning a bike allows you to save money on upfront vehicle costs. Maintenance and repair costs can also be cheaper.
Motorcycles also tend to be much more fuel efficient. The average motorcycle can travel 120-200 miles on a single tank of gas depending on vehicle, tank size, and road conditions. They are also more space efficient when it comes to storing in a garage or lot.
Risks
Motorcycle riders are at a greater risk of suffering injuries or being killed in accidents. This is due to open exposure, as compared to being enclosed in the metal frame of a car.
Helmet use is one key factor that affects the severity of accident injuries. Roughly 20 states have laws that require riders to wear helmets. The state of Arizona does not have helmet requirements for riders over the age of 18. However, the use of protective glasses or a face shield is required.
Motorcycles also carry financial risk. Motorcycles are easier to steal than other vehicles because they are smaller and harder to lock. They also experience more damage in the case of an accident or weather event.
Motorcycle Insurance Coverage Limit in Arizona
The minimum amount of coverage for motorcycle operators is the same as passenger vehicles. These requirements are $15,000 in bodily injury coverage per person and $30,000 per accident. Property damage coverage of $10,000 or more is also necessary.
Motorcycle Insurance Coverage Options
Bodily Injury: Pays for injuries when you are at-fault. Does not provide coverage for injuries that you incur. (See Medical Payments)
Property Damage: Property damage coverage is for vehicles or other property that is damaged that you are liable for.
Collision: Collision insurance will pay for the repair or replacement of your motorcycle from a crash involving another vehicle or object. This applies even if you are at-fault.
Comprehensive: This type of coverage pays for roadside assistance and damages from storms, fire, vandalism or theft.
The majority of comprehensive and collision insurance policies have a deductible. The deductible amount is a total that the insured must pay before the insurance kicks in. For example: Your bike has $1,000 in damage. If your deductible was $500, you are responsible for paying $500 and then, the insurance will cover the remaining balance.
Uninsured & Underinsured Motorist:. Uninsured motorist protection pays for your damages when the at-fault motorist does not have liability coverage. In accidents where damage is severe and the responsible party does not have enough liability coverage, underinsured motorist coverage may apply.
Medical Payments: Pays for costs including medical bills, funeral costs, and sometimes, lost wages that result from an accident. It is not as common because many people use health insurance policies instead.
Guest Passenger Liability: Unlike regular vehicle insurance, motorcycle insurance may or may not include liability coverage for passengers. You should review the terms of the policy and add optional guest or passenger coverage as needed. Keep in mind that the state requires passengers to have a seat and footrests.
What Factors Influence Motorcycle Insurance Rates?
There are a number of factors that insurance companies consider that impact rates such as:
Age. Younger people tend to exhibit riskier behavior and typically have higher rates.
Style. The type of motorcycle being covered influences rates. Sport or racing bikes typically have higher premiums.
Driving Record. Driving and claims history are generally considered.
Location. If you live in a busy urban area with higher accident and theft rates, you may have a higher premium.
Usage. A bike that is used on a daily basis will cost more to insure than a bike used only on weekends.
Cost of Parts. If you have collision coverage and/or comprehensive coverage, the cost of repairing or replacing your bike will impact premiums.
Motorcycle Insurance Discounts
Insurance agencies often give discounts to safe drivers. Riders who have taken motorcycle safety driving or military safety courses may qualify for discounted rates.
Members of groups like American Motorcycles Association (AMA) and Harley Owners Group (HOG) are frequently eligible to get discounts as well.
Purchasing motorcycle insurance through the same carrier where you buy home or auto insurance may qualify you for a bundle discount.
Experts suggest that shopping around and getting multiple quotes before deciding on a policy ensures that you get the lowest rate.
Traveling Outside the U.S.
The majority of motorcycle insurance policies issued in Arizona extend coverage when traveling into Canada. Many policies do not provide coverage for traveling in Mexico. According to Mexican law, visitors should purchase a separate policy for liability.
Motorcycle Insurance in Casa Grande
At Gebhardt Insurance Group, we provide excellent options for motorcycle insurance. Our insurance agents take the time to find you a policy that covers your specific needs at a highly competitive price.
Discounts are available for those who bundle other forms of insurance with their motorcycle policy. Contact our office today at (520) 836-3244 for a motorcycle insurance quote!