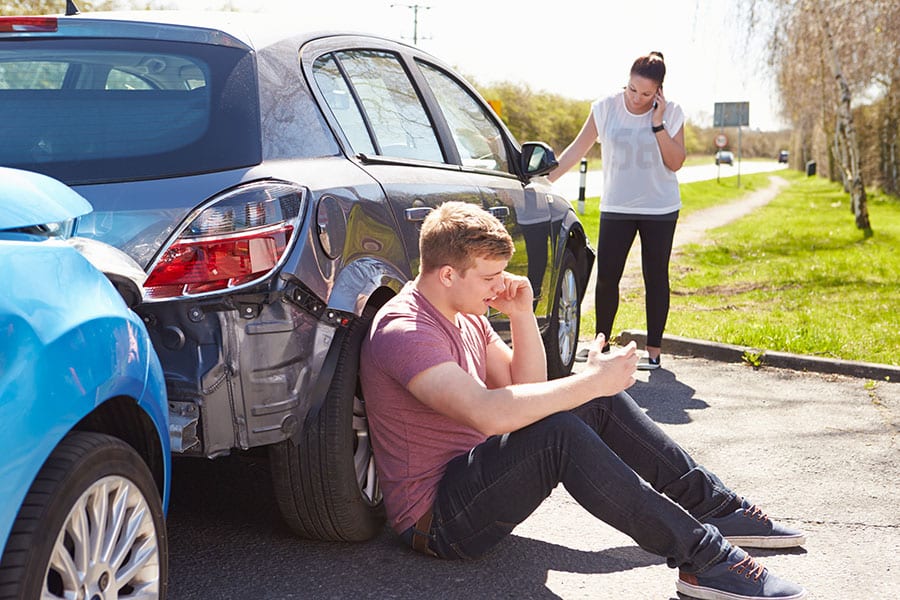 Are you a parent with a child who is fast approaching the ability to drive on their own? Teaching your teen how to drive a car is a huge milestone, probably one that you did not realize you would reach so quickly. You may be eager and excited to take on this task. But more often than not, the excitement is met with anxiety and fear because trusting your baby alone on the road behind a giant machine is extremely nerve-wracking. It is nerve-wracking because you fear for their safety, and you may also fear for your wallet.
Rumor has it that insuring your teen driver can be pretty expensive. And unfortunately for you as the parent, that rumor is true. Teen drivers are some of the most expensive people to insure on the road. But the good news is that you are not simply stuck with a specific rate and at the whim of a single auto insurance company. You have options when searching car insurance rates for your teen driver.
To help you take some of the sting out of reaching the milestone of being the parent of a teenage driver, we have put together some information to help you find an affordable car insurance quote. Read more to find out what information you need to find the best car insurance company for your teen driver.
What Affects Car Insurance Rates?
Before looking at what it costs to insure a teenage driver, it's important to take a look at the factors that many insurance companies use to determine insurance rates. This will help you to know better what kinds of questions to ask when looking for quotes. It will also give you a better understanding of areas where you may be able to make decisions to increase or decrease your rate versus areas where your actions simply have no effect.
Coverage
The most significant factor that affects your car insurance rate is the type of coverage you choose to carry. Every state has insurance requirements that you must meet to drive on the road legally. In Arizona, the only state requirement is that you must carry liability insurance in the amounts:
$25,000 for bodily injury per person
$50,000 for bodily injury per accident
$15,000 for property damage per accident
Beyond liability, there are many options for additional coverage, such as comprehensive coverage and collision coverage, underinsured/uninsured motorist coverage, and additions such as roadside coverage, gap insurance, medical payment coverage, and more. Each coverage you choose to add to your policy will increase your rates. While some coverages may only increase your payments by a few dollars each month, others can add significant costs, therefore, it is vital to choose wisely when selecting coverage.
Driving Record
The driving record of drivers on your policy plays a significant role in the type of insurance rate you are offered. Do you have multiple at-fault accidents on record? Has an insurance company had to pay total replacement costs for vehicle damage? Do you have several claims on your policy? If so, each claim can cause your rates to rise. This is because if you have a history of accidents or traffic tickets, you are an increased risk to insure, therefore your insurance company will offset their potential costs by charging you more for your coverage since there is a higher chance that they will have to pay out on your policy due to your driving habits.
Location
The location of where you do the majority of your driving will play a role in your car insurance rates. If you live and work in a rural area, you are typically at lower risk of being involved in an accident, therefore, your rates will be lower. Likewise, if you live in a populous city with more drivers, you are at an increased risk of having a car accident and, therefore more expensive to insure.
Age
Statistics show that age plays a role in the likelihood of being in a car accident. This is largely due to the length of experience and the decision-making process. For instance, seasoned drivers are less likely to make risky or reckless decisions when driving as opposed to young drivers who are nervous drivers or who do not have the life experience to draw on when making choices on the road. Therefore, insurance companies take the risk factor of your age into account when determining your insurance rates.
Demographic
Male drivers are more expensive to insure than female drivers. This is due to the assumption and proven statistics that male drivers make riskier decisions while driving and are involved in more fatal accidents than females. National averages show that male drivers cost $350 more annually than females to insure.
Why does it cost more to insure a Teen Driver?
Now that you can see some of the factors that affect your car insurance rates, it may be evident as to why teen drivers cost more to insure. A teenager's lack of experience behind the wheel of a car makes them more susceptible to an accident and, therefore, a more considerable risk to insure for the insurance company. Teens meet almost every high-risk factor for what drives up insurance costs.
For example, parents often select the maximum coverage for their teen drivers and their property. This ensures that if an accident occurs, parents do not have to worry about the costs of hospital bills or car repair costs. Teenagers also do not have a history of good driving to bring down costs, and statistics show that people in their teens actually have a history of poor decision-making when driving.
Because of these factors, insurance companies insure teenagers at higher rates to counteract the high chance that they will probably have to pay out a claim during their teenage years. These rates will decrease, though, as time progresses if your teen's record stays clear.
How to Keep the Cost of Car Insurance Low for Teens:
Though it is a fact that teenagers are more expensive to insure, you are not just out of luck when it comes to cost breaks and ways to save. There are several decisions that you and your teen can make to help bring down the expense as much as possible.
Individual Policy
Most insurance companies recommend adding your teen to your existing policy rather than opening an individual policy under their own name. This is because your teen may be able to draw from your own good driving record rather than having a rate based on having one single young driver, which drives up premium costs.
Though, it is not always a good idea to have your teen on your policy. If you have an expensive sports car on your policy, it may be better to keep your teen on their own policy. This is because insurance companies will often match the most expensive person to insure with the most expensive vehicle to insure, which causes prices to rise even further. Additionally, it may protect your assets in situations where litigation may arise if your teen is on their own policy. But each insurance company has its own policies for how these situations are handled.
Vehicle
The type of vehicle you are insuring affects the rate you pay. For instance, it is more expensive to insure a classic sports car than a standard sedan. Additionally, it is cheaper to insure older vehicles than brand-new ones. A good rule of thumb to follow is that if a car is more expensive to replace, it is more expensive to insure. Therefore, when shopping for your teen driver's first vehicle, it is wise to remain sensible and responsible. They might would rather drive a cool new sports car, but it is likely that they will remain safer, and their insurance will remain cheaper if you put them in a simple colored sedan or SUV.
Discounts
Most insurance companies offer a way for your teenager to save money by showing responsibility. For instance, some companies will have a good student discount policy where your student can receive a percentage discount for proof of maintaining good grades.
If you have a teen who is away at school without a car and does not drive very often, your insurance company may also have a student away at school discount where you can receive a lower rate because the risk of insuring your teen is low for the time being.
Safe Driving Programs
A few of the national insurance companies offer safe driving discounts that are an excellent way for teens to bring down the cost of insurance. These safe driver programs consist of a driver training course that is typically offered as an online course. They take a few hours to complete and include modules, videos, and quizzes that help teach a participant how to maintain safe driving practices. When your student completes this course, they can present a certificate of completion and receive a discount on their premium.
How to Add a Teen to Your Insurance Policy
When your teen is close to driving age, it is a good idea to begin shopping for insurance policies or speak to your current insurance carrier about their teen driver policies. You do not want to wait until the day they get their license to begin looking at your options in case you have questions or would like to shop around for different policies.
In many cases, it simply takes a phone call to add your teen to your policy. But the timing of when you add them can vary. Some companies may prefer that you add your teen as soon as they get a learner's permit, while others will allow you to wait until they officially have their license. In either case, it is best to find out the company policy beforehand to avoid a situation where your teen driver is on the road without insurance.
Gebhardt Can Help You Find the Best Insurance for Teen Drivers
Are you looking for cheap car insurance for teens and young drivers? Our team at Gebhardt can help! We are familiar with national and local brands and their teen driver policies. We know which companies have safe driver programs, accident forgiveness, and good grade discounts. Therefore, if you are looking for the best insurance for teen drivers, we can help you shop your options.
We are available now to help you sign up for a teen driver policy or to simply answer the questions you have as your teen gets closer to reaching this big milestone. Call us today.