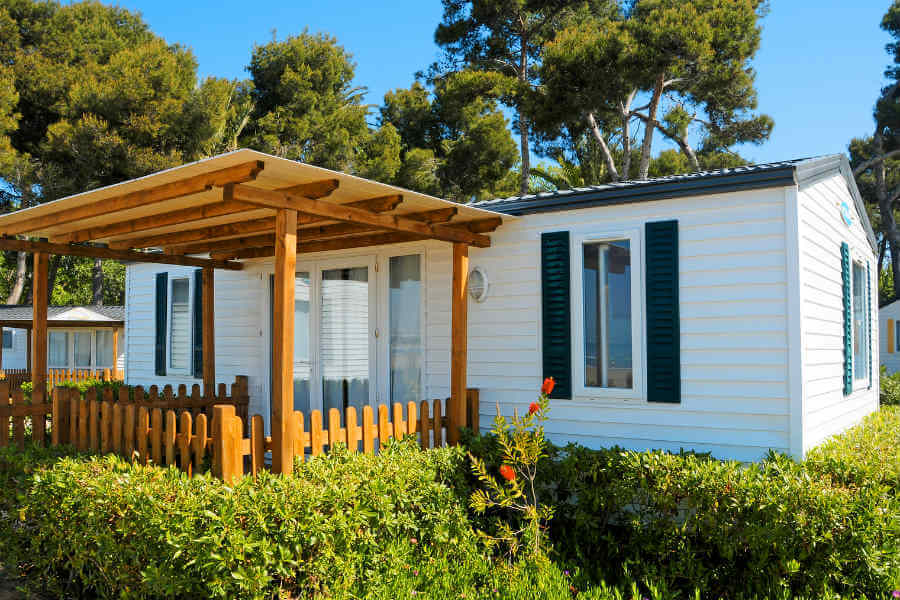 If you are looking to buy a home on a budget you may feel a little overwhelmed with questions. What do I need to know? What should I read? Is there a mobile home buyer's guide? Are mobile homes and modular homes the same things? Where do manufactured homes come in? Have no fear; we have put together a list of the important differences and distinctions of these types of homes. In any home buying situation, do your research, choose your future home wisely and make sure you have enough insurance to protect your home and above all make sure you have home owners insurance and mobile home insurance coverage.
While many people use the phrases "manufactured home" and "modular home" interchangeably, the two are quite different. When looking at your housing options it is important to know what type of home you are looking at and the differences between a manufactured or modular homes classification.
Another complication to the discussion is that many people think of manufactured homes and mobile homes as the same things; which they are, mostly. Mobile homes are technically homes built prior to 1976 and HUD-established standards. Mobile homes that were built after this time frame and adhere to the HUD regulations regarding design and durability are considered manufactured homes. For our purposes, we will use the terms interchangeably. Modular homes and manufactured/mobile homes, however, have some very distinct differences.
Code Regulations
A manufactured/mobile home is created and built at a factory and must meet federal building code regulations established by HUD (the Department of Housing and Urban Development). These regulations are regularly reviewed and updated by HUD as needed. While the initial regulations began in 1976, there were major additions to HUD's standards in 1994 and 1999. HUD established strict building codes in order to eliminate mobile home hazards due to poor construction.
A modular home is also made at a factory but must meet local or state regulations. Modular home standards can vary based on locations, so research your local and state laws carefully prior to purchase. Your contractor should already be familiar with these codes, but make sure that you obtain all necessary local and state permits and your home is built to code.
Assembly
Compared to a site-built home, a modular home is quite similar. While a site-built home is constructed and put together in the lot of the home, a modular home is prefabricated in a factory and then assembled at the site of the home.
A manufactured home is built on a non-removable steel structure and transported to the destination site. If there are multiple parts of the manufactured home, they will be assembled at the site. These pieces are moved on wheels and the homes itself, even after assembly, may be mobile. Depending on the home and location, the home may be attached to a permanent structure or it can be anchored to a more adjustable foundation.
Value and Pricing
Modular homes are most similar to traditional site-built homes. Because of the way this type of home is made and assembled, the pricing and value is similar to a site-built home. It may cost more to purchase a modular home than a manufactured one. But your modular home has a better chance at retaining its value and appreciating over time.
Manufactured, or mobile homes, are less permanent structures. These homes are quite a bit different than site-built homes. Their pricing and value seem to reflect that. They tend to be more much more affordable than site built or modular homes but can also depreciate in value.
Size and Structure
Modular homes are much closer to traditionally site-built homes in their permanent foundations. This gives you have much more flexibility in the architectural design and customization available. You can work with an architect to design your modular home and have it built to your specifications. You have many more choices than you would with a mobile home.
Manufactured homes only vary in width. You can purchase a single, double, or triple-wide home, but you can't purchase a second-story mobile home. While the basic design of a manufactured home can't be modified, you can make customizations inside the home. Due to the way these homes are constructed, mobile home remodeling is limited to the interior of the home.
Communities
Modular homes are generally more similar to traditionally built homes in that there are neighborhoods but less specific "park" focused communities.
Manufactured/mobile homes will typically be part of a mobile home park. This community is made up of your neighbors and will have its own set of rules and regulations. It is important to get to know your community and its rules prior to purchasing a home. You can stop by a prospective mobile home park in Arizona and talk to the residents. There are also reviews online designed to help you find the most enjoyable mobile home parks. Each park will have its own rules and its own activities and resident events.
Regardless of the type of home you choose, make sure to work with an experienced insurance agent to protect your investment and belongings. Choosing the perfect home will greatly depend on your needs. Your budget, lifestyle and dream home design will all play a part in deciding which type of home is perfect for you. Now that you know the differences between a manufactured or modular homes classification, you are better equipped to decide which is best for you.